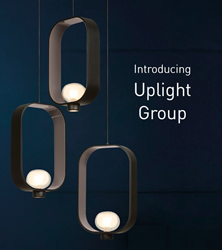 Sharing the world's best lighting products with new audiences is Uplight Group's founding principle.
Miami, FL (PRWEB) September 21, 2017
Uplight Group, a new lighting company focused on distributing the finest in contemporary lighting for residential and contract/hospitality markets, announced that it has chosen four brands for its initial portfolio of North American products. Founded by seasoned lighting sales executive and distributor David Weisinger, the Uplight Group offers a wide range of exciting and original lighting designs.
The new company's mission is to present exclusive brands and lighting designs. The first group of lighting brands that have recently signed distribution deals with Uplight Group include the Belgian company at Hind Rabii, the Scandinavian brand Showroom Finland, the cutting-edge Italian company Metal Lux, and the globe-hopping style hunters at Oggetti. Each of these brands have been providing lighting for the residential and contract hospitality markets abroad for years.
Uplight Group is uniquely suited to bring lighting products to North American audiences: company founder David Weisinger founded Studio Italia Design USA, and he was responsible for introducing the brand to North American markets. With a practiced eye for finding the next trend in lighting design and decades of experience in the industry, Weisinger carefully curated select products from each brand. His selections emphasize what is unique about each brand: Metal Lux's state-of-the-art metalworking and glass expertise, the modern designs of Oggetti's Schema and Tooy collections, Showroom Finland's pioneeringly-modern Scandinavian woodworking, and Hind Rabii's singular sculptural fixtures inspired by her North African upbringing. Each fixture also meets the North American lighting certification standards.
"Sharing the world's best lighting products with new audiences is Uplight Group's founding principle," said Weisinger. "That's why we are so excited to work with pioneers like Metal Lux, Oggetti, Hind Rabii, and Showroom Finland. It's a great honor for us to bring so many of their innovative lighting collections to America for the first time."
The four brands each have very distinct collections and backgrounds:
Metal Lux – Exclusive Italian Design
Proudly entering their 43rd year in business, Metal Lux is headquartered in the heart of the Veneto lighting district in Italy. The company has continually and successfully created innovative designs with the help of a large group of skilled workers who are highly specialized in various artisanal skills. Metal Lux offers bespoke items for the hospitality and high-end residential sectors that are manufactured using state-of-the-art design systems and cutting-edge metalworking equipment as well as incorporating generations of glassblowing and glass-working expertise. With the experience acquired from decades in the marketplace, Metal Lux offers high-tech lighting solutions that couple competitive prices with a fast turnaround time. The company's headquarters are set in a lovely natural environment, overlooking waterways and local farms, which helps to inspire the creativity of its artisans.
Oggetti – Innovation from Around the World
Oggetti's lighting collections are handmade by some of the world's top artisans incorporating Murano glass and hand-woven galvanized iron from the Philippines. Robert and Nancy Frehling, the founders of Oggetti have been involved in the home furnishings industry for more than 40 years, initially as tabletop accessory retailers but quickly branching into importing and wholesaling, focusing first on accessories but quickly expanding to include sculpture, furniture and lighting. Much of the Oggetti furniture collection is made in the Philippines but their lighting is primarily manufactured in Italy and the pieces are a collaboration between top designers and the Frehlings, whose exquisite taste and understanding of the marketplace drive the company. Their latest collections; Schema and Tooy are an homage to both the family's love of modernism and their commitment to the future. Uplight Group represents Oggetti for the contract/hospitality lighting market.
Showroom Finland – Intelligent Scandinavian Design
Showroom Finland is a Helsinki-based company whose skilled designers are in the vanguard of Scandinavian style. The brand works with many renowned Finnish product designers, including Tuukka Halonen and Harri Koskinen. In Finland, forests provide the country with the sustainable resources needed to produce plywood and cardboard products. As a result, Showroom Finland's team has developed into master woodworkers, crafting timeless fixtures without the use of glue or screws.
Manufacturing and designing mainly on home soil, Showroom Finland applies this expertise to create tomorrow's classic designs. The first products in Showroom Finland's collection were plywood bowls, which were awarded the DESIGN PLUS in Frankfurt in 2003. In the following years, Showroom Finland was nominated for the same award for three more products. Their lighting products have won equally prestigious awards: GOOD DESIGN® and GREEN GOOD DESIGN (Chicago) as well as ECO DESIGN (Helsinki).
Hind Rabii – Unique Belgian Design
Hind Rabii, an industrial engineer and interior designer who was born and raised in Morocco, established the Belgian company that bears her name in 1997. An artistic spirit, her goal is to produce "sensitive light design" that elicits feelings. The brand's collections combine the clean lines of Nordic design with the influence of her native North Africa. Hind Rabii's elegant collections draw from her eclectic life experiences, taking inspiration in everything from the artisans of the bazaars of Marrakesh to the sleek modernists of Europe. Their lights feature gold, chrome and copper plating finishes worked by hand. The glass is imported from Italy, processed by means of blow-molding techniques and embellished with color inserts.
Uplight Group's curated selection of these brands' best lighting designs are now available online and at high end lighting retailers.
About Uplight Group
Uplight Group imports, promotes and distributes unique lighting products from around the world in North American markets through select retail channels. Uplight Group also works closely with lighting specifiers including some of the top architects and interior designers in the USA. Its founder, David Weisinger, brings more than 13 years of experience in the lighting market. Prior to Uplight Group, Weisinger founded Studio Italia Design USA, to distribute a little known lighting manufacturer at the time, which he introduced and distributed in North America, turning it into a leading player in the American lighting market today. Uplight Group's portfolio of innovative lighting companies includes the Italian lighting brand Metal Lux, the Belgian designer Hind Rabii, the Scandinavian company Showroom Finland, and the global style hunters at Oggetti, who were initially known in the USA for their furniture and accessories but through Uplight Group will have their lighting collections distributed to the contract and hospitality market. Lighting collections from each brand are hand selected by Uplight Group to create a portfolio of unique decorative lighting designs that meet the needs of the most demanding architects and designers and comply with North American lighting certification standards. The team at Uplight Group boasts extensive hands-on experience in lighting sales and distribution, as well as operations and logistics, enabling them to place new products in front of a diverse group of clients. They also maintain a significant product inventory in their warehouse in South Florida to provide immediate delivery of most items. Uplight Group continues working to curate and distribute the world's finest lighting products. For more information, visit http://www.uplightgroup.com.