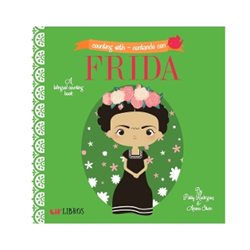 " ... we share the same mission of enriching and inspiring our community."
Layton, Utah (PRWEB) September 21, 2017
"We are thrilled to welcome Lil' Libros to the Gibbs Smith family," says Brad Farmer, CEO. "Ariana Stein and Patty Rodriquez have created a solid brand that introduces bilingualism to children at early ages, and incorporates subjects that make reading fun and rewarding for child and parent alike. Their concept is a perfect complement to our BabyLit® series of children's books, and to our organization's goal of enriching and inspiring humankind."
Patty Rodriguez, Lil' Libros co-founder and CCO states, "To see Lil' Libros as part of the Gibbs Smith family is a dream come true. This partnership makes me really proud as a Latina woman and mother because I am certain this will elevate our community's voice and talent."
Ariana Stein, Lil' Libros co-founder and CEO continues, "We decided to partner with Gibbs Smith not just because of their sales and distribution expertise but because we share the same mission of enriching and inspiring our community. Their goals and ours are very much the same—and for that we couldn't be happier."
Lil' Libros is an independent bilingual children's book publisher, headquartered in Los Angeles. Founded in 2014, its books are currently found in Target, Barnes and Noble, Amazon and independent bookstores nationwide.
Gibbs Smith is a Utah based publisher, founded in 1969. Its trade and special interest division publishes home reference, cookbook, and children's titles. Its BabyLit® imprint publishes board- and storybooks for children ages 0-5, and its LoveLit™ Gift brand creates book themed gifts for those who love to read. The Gibbs Smith Education division is the nation's leading publisher of state history programs.