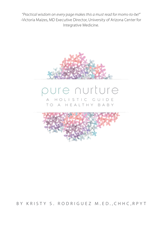 VIENNA, Va. (PRWEB) September 25, 2017
A prenatal health coach and prenatal yoga teacher has released her simple, self-care-focused guide to pregnancy and parenthood for women who are planning pregnancy, women who are pregnant and moms of babies and young children. In "Pure Nurture," Kristy S. Rodriguez presents a gentle, holistic approach to empower women and foster balance throughout all stages of becoming and being a mom.
Inspired by her own experience with pregnancy and motherhood, Rodriguez developed her book as a validation of intuition, "mama-bear wisdom" and female self-care. In this, she emphasizes the critical importance of fostering mental, physical and emotional health in moms and future moms in order to pave the way to a healthy pregnancy and, ultimately, a healthy baby.
"We are inundated with heaps of information on a daily basis, and that only seems to multiply during pregnancy and motherhood," Rodriguez said. "Cloth diapering, breast feeding, formula feeding, co-sleeping, cry-it-out method, baby wearing, what to eat, what not to eat – the list goes on and on. Through my book, I hope to empower women in a non-judgmental way and encourage them to do what feels best for them and their baby."
Through "Pure Nurture," Rodriguez reminds moms from all walks of life that self-love is not a luxury, but rather a vital aspect of nourishing their own spirits and cultivating a healthy life for themselves and their children. Rodriguez's book will guide readers through their pregnancy, encourage them to embrace it as their own and offer them a compassionate approach to finding balance during the change-filled process of creating life.
"Pure Nurture"
By Kristy S. Rodriguez
ISBN: 978-1-5043-6950-3 (paperback); 978-1-5043-6951-0 (electronic)
Available at the Balboa Press Online Bookstore, Barnes & Noble and Amazon
About the author
Kristy S. Rodriguez is a certified holistic pregnancy health coach and holds a Master of Education degree from George Mason University. A mother to two daughters, Rodriguez is an experienced ballet and ballroom dancer and a certified yoga teacher, and she is passionate about providing education and support to women who are pregnant or trying to get pregnant as well as new moms. She currently resides in Vienna, Va. To learn more, please visit http://www.purenurture.com.
Review Copies & Interview Requests:
LAVIDGE – Phoenix
Danielle Grobmeier
480-648-7557
dgrobmeier(at)lavidge.com
General Inquiries:
LAVIDGE – Phoenix
Maggie Driver
480-998-2600 x 584
mdriver(at)lavidge.com