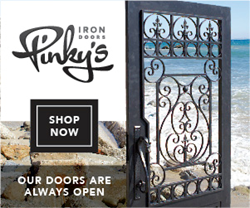 Los Angeles, CA (PRWEB) September 21, 2017
For a limited time, Pinky's Iron Doors is offering a promotion on doors on its website. Customers may choose from a broad selection of door styles at savings of 30 percent off, and select doors are available for 40 percent off of the normal retail prices.
Handcrafted wrought-iron doors help provide security and luxury to homeowners and have long been prized. Wrought iron doors are available in a variety of classic styles that can help add to a home's visual impact. Modern wrought-iron door designs are also available to complement the lines of modern architecture. Businesses and homeowners may also choose from a selection of steel doors in Pinky's Air Collection at tremendous savings for a limited time only. Pinky's Iron Doors is also offering tax-free sales to customers outside of California for even more savings (not valid if any other offer, for limited time only).
About Pinky's Iron Doors
A family-owned business, Pinky's Iron Doors is based in Los Angeles, California and provides high-quality doors to residential and commercial couples to customers throughout the United States. The company was founded in 2014 by Dion Der, who has more than four decades of experience crafting wrought-iron doors.
Contact Information
Pinky's Iron Doors
http://www.pinkysirondoors.com
(844) 843-6677 (toll-free) | 818-843-6670
info(at)pinkysirondoors(dot)com
6007 S. St. Andrews Pl, Unit #5
Los Angeles, CA 90047