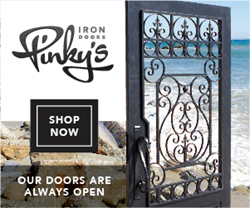 Los Angeles, CA (PRWEB) September 21, 2017
Located in Los Angeles, California, Pinky's Iron Doors is a family-owned company that provides high-quality doors to both residential and commercial property owners in all fifty U.S. states. Customers can order ready-to-install doors from a variety of exciting options available online.
Pinky's Iron Doors Offers Foam, Dual Glass, Operable Glass, And More
Property owners appreciate the variety of top-notch features they find at Pinky's Iron Doors, such as weather stripping, built-in thresholds, and galvanizing.
Pinky's Iron Doors impresses both residential and commercial customers with their expertly designed doors. Built to last and to add curb appeal, Pinky's iron doors come in a wide selection of premium styles.
The designers of Pinky's Iron Doors have included enhancements and quality materials to create premier doors. They've incorporated a whole host of state-of-the-art features that make their doors both highly functional and exceptionally attractive.
Pinky's Iron Doors include a polyurethane foam core to prevent rusting, reduce noise, and protect from both heat and cold. Because the doors include dual glass sealing, they are able to feature both interior and exterior weather stripping for an added layer of protection against the elements. The iron doors feature sturdy yet elegant 5/8" tempered glass as well as built-in thresholds to help prevent water from leaking through the door.
The wrought iron used to form the structure of each door is galvanized with zinc to prevent the iron from rusting. Most doors also include operable tempered dual glass panels that are individually hinged. Each of these individual panels can be opened on its own to allow for easier cleaning, better ventilation, and added security.
Some of the other features Pinky's customers enjoy would include a bottom sweep that's integrated into the bottom of the door, easy-to-install built-in brackets with pre-drilled holes for the door frame, flush bolt systems at the top and bottom of double doors. The strong hinges include grease fittings that make opening and closing Pinky's Iron Doors a breeze. Those who choose custom doors can order their own unique glass to make their door stand out from the rest of the neighborhood. It seems as if the designers of Pinky's Iron Doors have incorporated just about everything a home or business owner could ever want in the way of a secure, stylish, and high-quality iron door.
Pinky's Iron Doors was started by Dion Der in 2014 in Los Angeles, California. This family-owned and operated business exhibits their huge selection of choice doors in a large showroom floor as well as on their user-friendly website. Custom doors are also available upon request.
For more information contact Pinky's Iron Doors.