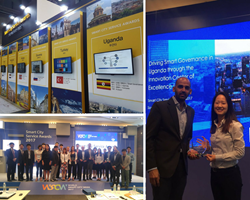 Los Angeles, CA (PRWEB) September 26, 2017
Global management consulting firm Avasant was a featured speaker and award recipient for the 2017 Smart City Service Awards session hosted by Korea Institute of Civil Engineering and Building Technology (KICT) at Asia's largest smart city event, the Smart Cities Innovation Summit 2017.
The Smart Cities Innovation Summit Asia 2017 brought together over 200 cities and 3,000 respective city leaders to share best practices and high-tech solutions for smart city realization needs. The summit took place from September 6th to 8th, 2017 in Goyang City, South Korea. In addition to the keynote sessions, the Smart City Exhibition featured 452 booths in areas of Smart Infrastructure, Smart Mobility, Smart Energy, Smart Homes, Smart Governance, and Smart Buildings.
Avasant was awarded in recognition of Exceptional Leadership and Devoted Service for Smart Governance with "Driving Smart Governance in Uganda through the Innovation Center of Excellence (CoE) by Public Private Collaboration." Akshay Khanna, Principal, Avasant Consulting, presented Avasant's service that designed an Innovation Center of Excellence (CoE) in Kampala, Uganda to support achievement of its Smart City & Governance goals to drive ICT & digital innovation adoption within the government.
Avasant Project Lead for Uganda, Chirag Rawat, noted, "Today's city officials face enormous challenges to update infrastructures with digital services in order to improve citizen services, manage costs, and ultimately improve quality of life for their citizens. Avasant addresses the challenges our clients face today with solutions that focus on a sustainable future." "Our commitment to the development of smart cities and governments in Asia and Africa is unwavering," added Dr. Pradeep K. Mukherji, President, Avasant Asia and Africa. The CoE Avasant helped create has benefited the innovation ecosystem in Uganda by bringing together stakeholders from government, start-ups, and other agencies driving solutions for improved public service delivery. Avasant's engagement in Uganda was the only African country to be recognized at the event, and one of nine Smart City Services chosen from 188 in the process conducted by Korea Institute for Civil Engineering and Building Technology.
Major sponsors and hosts included Ministry of Land, Infrastructure, and Transport, Republic of Korea, Ministry of Science and ICT, Republic of Korea, Korea Land & Housing Corporation (LH), and Goyang City, Republic of Korea.
View the Avasant Uganda presentation here: https://info.avasant.com/driving-smart-governance-in-uganda-through-the-innovation-center-of-excellence
About Avasant
Avasant is a leading management consulting firm focused on translating the power of technology into realizable business strategies for the world's largest corporations. Specializing in digital and IT transformation, sourcing advisory, global strategy, and governance services, Avasant prides itself on delivering high-value engagements through industry focused innovation and flexible client based solutions.
Our seasoned professionals have an average of 20 years of industry-honed expertise, having conducted 1000+ engagements in over 40 countries. Avasant's next generation consulting and advisory methods have made it the top-ranked firm in its class, with recognition from numerous organizations, including: Vault, NOA, IAOP, and Wall Street Journal.
Avasant's engagement in the global market has inspired a strong commitment to community and purpose. Avasant Foundation supports technology and skill development programs to create employment opportunities for youth across Africa, Asia, the Caribbean and Latin America.
For more information, visit http://www.avasant.com.
Follow news, photos and video on Twitter at http://www.twitter.com/avasant, Facebook at https://www.facebook.com/avasantllc, and LinkedIn at https://www.linkedin.com/company/avasant.