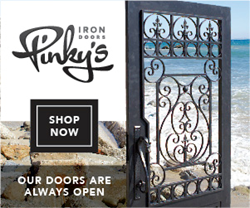 Los Angeles, CA (PRWEB) September 20, 2017
Pinky's Iron Doors Makes A Stunning Addition to Shavo Odadjian's Home
Bassist Shavo Odadjian Gets a Distinctive Wrought Iron Door
Shavo Odadjian and his family decided they needed a beautiful new addition to their home. They turned to Pinky's Iron Doors to make it happen.
Pinky's Iron Doors visited the home of bassist Shavo Odadjian from System of a Down to meet his family and create an iron door that reflected their personality. The family decided on a single full arch door that was fully customized to meet their specifications, and they couldn't have been happier with the results.
As Pinky's Iron Doors does for any customer that requests it, the company offered the Odadjian family a selection to choose from, in this case five doors. Each design was customized, and once Shavo Odadjian made a choice, the company's master crafters got to work.
More people like the grammy award-winning bassist, vocalist, and songwriter are choosing to customize their homes and make them their own. Doing so with a wrought iron door lets people know more about homeowners' personalities, and lets them know that they are entering the house of someone who wants to make their mark on the world. Shavo Odadjian has already made a huge mark on the music world, and with the customized wrought iron door from Pinky's Iron Doors, he and his family have made their mark on the place the family greets guests, sits down to dinner, and makes the same types of family decisions that people who aren't famous have to confront every day.
It's no surprise the Odadjian family chose Pinky's Iron Doors. The family-owned company serves Los Angeles area and national customers, and it offers a huge selection of doors. In a city like Los Angeles where it's not always easy to set yourself apart, a fully customized wrought iron door from Pinky's Iron Doors is a great way to announce that you have arrived.
Contact Pinky's Iron Doors at 1 818-843-6670 to get more information on customizing your own home.