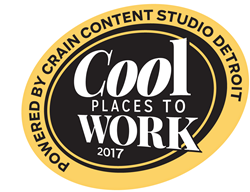 We come to work every day and push the limits for a purpose: we are on a mission to help our clients, our community and each other do more, create more impact and grow more.
Troy, MI (PRWEB) September 21, 2017
Massage therapy? Check. Yoga? Check. Complimentary snacks? Check. Work-life balance? Check. Flexible work schedules, work-from-home options and four-day summer work weeks are part of everyday life at Billhighway. It's easy to understand why Billhighway, based in Troy, just made it into the top tier of Crain's Detroit, "Cool Places to Work in Michigan for 2017": the company ranked #20 out of the 100 companies selected for this list.
Innovation is an important part of being a team member at Billhighway, which is no surprise -- innovation is exactly how the company grew from humble beginnings (in a cramped apartment on the campus of Eastern Michigan University) to where it is today: a powerful financial management powerhouse transacting over $1B in membership dues for chapter organizations. And, when it comes to innovation for team members, workspaces outfitted with portable elliptical machines, standup desks, yoga balls, free snacks, and a café stocked with a variety of rec room games are just the tip of the iceberg...
Beyond the many perks, this is a company that gives its team members a host of opportunities for learning and career growth. The certification program, which gives team members new skills, is a win-win: team members earn pay increases while Billhighway strengthens its workforce. An innovative Client Care Career program pairs entry-level team members with a cross-functional team so that they can build the skills that will get them to where they want to be. The Billhighway University gives team members a plethora of skills, leadership and professional development options. Pair these opportunities with guidance from a mentor through the in-house mentorship program, and Billhighway team members are on their way to success.
Going the extra mile for customers is a way of life for Billhighway: the CC365 Play, for example, requires a strong commitment from each and every team member. In return, Billhighway goes above and beyond for them. "We come to work every day and push the limits for a purpose: we are on a mission to help our clients, our community and each other do more, create more impact and grow more," shares Brenda Gallick, Director of Team Member Success. "This shared sense of purpose and working towards the same goal, allows us to make an impact faster and in a meaningful way."
Billhighway, which helps chapter-based organizations (such as professional associations, fraternal and labor unions) function both autonomously and as part of the larger organization of which they are part, is a company that values how individual expression and productivity come together for a greater goal. Billhighway team members enjoy a workplace that fosters their individual development and goals, supports a healthy work-life balance and welcomes their feedback. Billhighway is an employer that gives back -- and for anyone looking for a company that brings a high level of energy and innovation to the financial services sector, Billhighway is an excellent choice. For local residents interested in working for an innovative company that's redefining the workplace, job opportunities are regularly posted at the company website (http://www.billhighway.co/about#Careers)...and oh yeah: no suits required!
About Billhighway (http://www.billhighway.co)
At Billhighway we come together to solve complex problems for member-based organizations and their components. The driving force behind the reason we come to work every day and push the limits is our desire to help others do more, create more impact and grow more. Whether that means helping others achieve strategic objectives, grow awareness of their mission or build meaningful member experiences. We always strive to bring our blend of technology and amazing people to the table to collaborate and empower organizations to free up time and resources, and set everyone up for success.
We call this DIG – Do more. Impact more. Grow more.
(###)