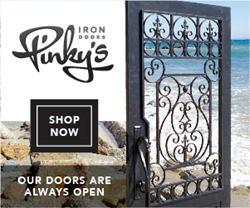 Los Angeles, CA (PRWEB) September 21, 2017
Pinky's Iron Doors, a Los Angeles based wrought iron door company, is launching a new website and hosting a contest offering monthly prizes for the rest of the year. The family-owned business has been serving residential and commercial customers in the U.S. for over forty years.
The upcoming launch of the new Pinky's Iron Doors website features an ongoing contest that will be held throughout the remainder of 2017. In order to have a chance at winning the free prizes given away each month, customers need to subscribe through one of Pinky's Iron Doors major social media channels. Monthly prizes given away on the new website will include free doors, free accessories and a wide variety of prizes in between.
All customers need to do to enter into the contest is register online and wait to see when the winners are announced on the Pinky's Iron Doors website and social media pages. The new Pinky's Iron Doors website is scheduled to be unveiled during the upcoming weeks.
About Pinky's Iron Doors
Pinky's Iron Doors is a family-owned and operated business in Los Angeles that's been serving commercial and residential property owners throughout the United States for over 40 years. Pinky's employs design experts who can create custom models specific to customers' needs and owns one of the largest selections of iron doors in Greater Los Angeles. The company's streamlined procurement process allows customers to order high-quality, installation-ready doors from the website online.