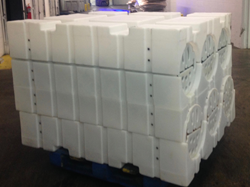 With the growth of tolling facilities across the United States, customers have many options and by using our Supply Chain Management Solution everyone wins, tollers and their customers reduce costs
White Pigeon, MI (PRWEB) September 21, 2017
"Our goal is to bring best technologies together from around the world to produce a line of Machines that would be at the forefront of the industry in innovation, reliability, safety, efficiency, and cost effectiveness," stated Gerald Ludwick, General Manager of Next HPP. Further more, Mr. Ludwick submitted, "It is of most critical importance that our suppliers are aligned with our goals and when they are not, as in the case of Baotou Kefa we must move in a different direction."
Next HPP's Supply Chain Management Solution has been very well received since the launch in 1st quarter of 2017. Since then the cost savings and streamlining of processes and procedures is regard as the newest and best way for tollers to achieve their goals. When a manufacturer can deliver to a tolling facility product already in baskets or totes it creates a series of synergies at the tolling facility that allows them to process more pounds per hour, per shift, and per day with less employees. Mr. Ludwick added, "With the growth of tolling facilities across the United States, customers have many options and by using our Supply Chain Management Solution everyone wins, tollers and their customers reduce costs."
MORE ABOUT NEXT HPP
NEXT HPP entered the High Pressure Processing Industry after several years of operating and consulting for food processing companies who owned HPP machines. Next HPP's team has worked with several of the manufactures of HPP machines in a variety of capacities. It is the experience gained in these different roles that provided the framework for the Next Generation Series of Machines and Material handling solution. However it is the unique and diverse background of the entire team at Next HPP that brought to the forefront a machine that utilizes best practices from many different industries. To learn more, click here
MORE ABOUT ALL NATURAL FRESHNESS
All Natural Freshness has become a Sales, Marketing, and Education resource concerning All Things Related to HPP. Click All Natural Freshness to learn more click here.