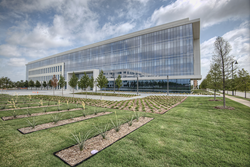 This building pushed the design of tilt-wall structures due to the linear glass façade band on the 4th floor.
Irving, TX (PRWEB) September 20, 2017
Adolfson & Peterson Construction (AP) recently completed construction of a new office building at 9111 Cypress Waters Boulevard in Irving.
Developed by Billingsley Company and designed by GFF Architects, the 225,000 square-foot project includes a 4-story tilt-up concrete core and shell office building, as well as a 3-level pre-cast parking garage with 512 spaces.
In total, the project encountered 56 days of rain delays, yet the project was still completed on time and on schedule.
This is the second tilt-wall office campus that AP has completed at the Cypress Waters master-planned development, which includes over 1,000 acres of office, residential and retail amenities.
"We appreciate the way that the AP team took care of business on this project," said John Gardiner, Vice President of Development with Billingsley. "We incorporated a fully functioning lobby, lots of artwork and added a tenant on the 1st floor and still opened the building on time. The positive attitude of the team made this possible. Thanks to AP for selecting some great trade partners from the subcontractor community to get us to the finish line. This building pushed the design of tilt-wall structures due to the linear glass façade band on the 4th floor. We appreciate the attention to detail that was taken into consideration during the constructability reviews and the construction of the 4th floor exterior elevation. The final look of the building is outstanding and a building that the AP company should be very proud to advertise."
About Billingsley Company
Billingsley Company is a land development and property management company headquartered in Texas. Billingsley holds a variety of properties, from office space, industrial and retail to single-
family and multi-family homes, as well as build to suit opportunities. For more information visit, http://billingsleyco.com/
About GFF
GFF is a distinguished award winning multi-disciplinary design firm based in Dallas and Fort Worth. With a staff of 130, GFF serves as the corporate umbrellas for distinct practice groups: GFF Architects, with eight design studios specializing in various building types; GFF Interiors, offering full service interior design capabilities, GFF Landscape, providing landscape architectural services; and GFF Planning, a studio focused on large-scale land-use planning, campus plans, urban design and zoning processing assistance.
About Adolfson & Peterson Construction
Adolfson & Peterson Construction is a U.S.-based, privately held firm that is consistently ranked among the top 50 construction managers and general contractors in the nation. Founded in 1946, the company has built longstanding commitments to the regions in which it operates and is known nationally for its innovative and collaborative approaches within the building industry. Adolfson & Peterson Construction serves the education, multifamily, healthcare, commercial, municipal and senior living market segments from its offices in Dallas, Denver, Minneapolis and Phoenix. For more information, visit http://www.a-p.com and follow us on Facebook, LinkedIn and Twitter.