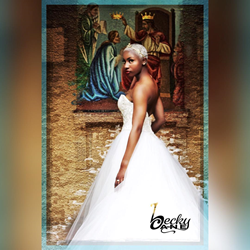 Washington, D.C. (PRWEB) September 22, 2017
Fresh off her win at Coast 2 Coast LIVE's 2017 World Championship showcase this past Labor Day on Miami Beach, D.C. soul singer Becky Cane recently released her debut EP "The Risen Queen", which is currently available to stream and download on iTunes, Spotify, Amazon, and other streaming service.
In October 2015, Becky Cane was in a near fatal car accident. After surviving this accident, Becky was given a revelation by God. This epiphany gave her the strength to focus solely on creating her debut EP, "The Risen Queen", the story of her death, resurrection and redemption. With her unique style of writing and soulful sound, Becky Cane will change the music industry forever.
Becky Cane, a Washington DC native, started her career in music in the children's choir at Church of the Great Commission. As a child, her love of music was strikingly obvious; So much that even before she could speak, a pastor prophesized over her life that she would one day be a Psalmist. She sung in local school talent and performing arts showcases, as well as numerous family occasions. In 2005, Becky Cane was introduced to the engineering level of music production when she worked at PowellHouse Project. While at PowellHouse Project, one of the highlights of her career happened in the summer of 2008. She performed alongside a theatre troop in West Africa. Following this extraordinary experience, Becky Cane discovered her love of writing, recording, and performing her very own music, and her love for this art only deepened. This was the beginning of her long and arduous journey to greatness. In the fall of 2014, Becky Cane reunited with the PowellHouse family and through the DC Summer Youth Employment Program (SYEP), she developed a creative music program. This innovative program allowed D.C. youth to utilize their life story to create a conscious music compilation that was recorded in a live studio and performed at the annual summer showcase promoting critical thinking, confidence, creativity, and courage. The following year, Becky Cane directed the Music and Art class for the developmentally and intellectually disabled population within Compass Inc. Day Services Program, and created lesson plans teaching music therapy through lyric analysis and art projects to build sensory skills and expression.
Becky Cane's mission is to affect change throughout the world by telling her story unselfishly through music, and her story is unlike most. Presently, Becky Cane is teaching an enrichment music course at Janney Elementary/Janney Plus in D.C., where she founded Empire for Kids, a new-age music program teaching children how to write, record, and market music (similar to the lemonade stand concept). Through Empire for Kids, Becky Cane formed a children's music group called JAC BOP (a spin-off of Kids Bop) that composes all original music, including their single titled "JAC BOP".
For all the latest news and music from Becky Cane, fans can visit her official Facebook page.
About Coast 2 Coast Mixtapes:
Coast 2 Coast Mixtapes are the most widely distributed mixtapes in the world, with over 100 million downloads/plays generated by over 300 volumes officially hosted by major artists. Coast 2 Coast has a solid reach in the new music industry with a digital magazine, DJ coalition, industry tips blog, yearly convention, and more. Coast 2 Coast Mixtapes represents a unique opportunity for artists of all urban genres, from major to indie. For more information, visit http://www.coast2coastmixtapes.com
About Coast 2 Coast Music Conference: The Coast 2 Coast Music Conference is an annual networking event bringing together top industry DJs, producers, A&Rs, program directors and more to speak on formal panels and give practical advice to developing independent artists. The conference also features workshops, showcase events, DJ Battles, Model Contest, Afterparties and the grand finale VIP Yacht Cruise through beautiful Miami and the Biscayne Bay! All of this leads up to our World Championships showcase, where the top performer of the year will be crowned and awarded a cash prize of $25,000 as well as an exclusive record deal with Coast 2 Coast. This is one event you don't want to miss so be sure to sign up for the next Coast 2 Coast LIVE event in your nearest city!