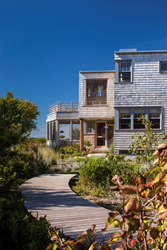 Andrew Franz Architect residences create areas of mindfulness, repose and refuge.
New York, N.Y. (PRWEB) September 21, 2017
The acclaimed architecture and design firm Andrew Franz Architect has announced several new building commissions, including the completion of a 5,000-square-foot house on Martha's Vineyard, the construction of a new, 3,000-square-foot residence on Long Island's East End, and a renovation of a celebrated modernist house on Fire Island. In addition, the firm has substantially completed a penthouse headquarters for a 100-person hedge fund in Manhattan and the redesign of a floating restaurant and lounge.
Noted for creating carefully crafted and exceptionally built homes and interiors, Andrew Franz Architect has been featured recently in in such publications as Architectural Digest, Dwell Magazine, the Wall Street Journal, and the French glossy Architecture a Vivre. Architect and founding principal Andrew Franz, AIA, also authored a cover story on multifamily housing trends for the American Institute of Architects (AIA) publication, Architecture New York State.
"The best residences for all people successfully elevate the user experience and offer meaningful connections to natural and local environments," says Franz.
Two new books have included urban home projects by Andrew Franz Architect to highlight how the architectural solutions connect to the outdoors, including in Philip Jodidio's Rooftops: Islands in the Sky, published this year by Taschen, and last year's "Living Roofs," from the publisher TeNeues.
Strong connections between indoors and outdoors -- and the ways Andrew Franz Architect residences create areas of mindfulness, repose and refuge -- are seen in the new house projects. With the firm's Meadow Beach House, for example, Franz's modern take on the New England Victorian cottage responds to its beachside setting in a meadow, with a layout designed to maximize outdoor views and daylight. With plenty of nooks, a memorable breezeway, bumped-out kitchen and five porches, the irregular floor plan breaks down the shingle-clad house's scale, ingratiating its presence.
For the Long Island House in New York, Andrew Franz Architect has unveiled a composition of wood, large windows and stone floors -- and an ample breezeway as well. The new two-story residence opens and reaches out over its site with a bridging drive as well as decks, porches, patios and other linking or spanning elements. Both houses employ "passive design" elements such as insulated glazing and natural ventilation, making it a highly efficient and sustainable home for year 'round use.
Not far away on Fire Island, Franz is respectfully restoring and renovating a landmark house by celebrated modernist architect Horace Gifford, first completed in 1965. The Gifford House project includes the addition of carefully considered exterior stairs, a new pool house, and an entry pavilion. A walkway and new landscaping are included in the new plans as well as a full restoration of the prolific Gifford's work.
Having recently worked on islands off Cape Cod as well as Shelter Island, Fire Island and in the Bahamas, Franz is beginning new works back on the mainland. And while Franz has built other freestanding structures from the ground up, such as the La Marina complex on the Hudson River and a guest house on the coast of Maine, his firm has come to prominence with stylish, clever and often surprising city residences. Notable and widely published recent works include the award-winning Tribeca Loft, the new Zero Threshold Duplex with its expansive green roof garden, and Park Avenue Duplex with custom OTTO by Andrew Franz furnishings and extensive built-ins.
Franz, whose 16-year-old practice has achieved significant attention, speaks and writes frequently about architecture for living.
###
For images and interviews: Chris Sullivan (973) 744-4101 or chris@ccsullivan.com
About Andrew Franz Architect PLLC
Based in New York City's Chelsea neighborhood, Andrew Franz Architect, PLLC, is a full-service architecture, planning and design firm that established a strong reputation for high-end residential works and today is increasingly called on for larger-scale projects including civic and public commissions, arts and performance venues, and facilities for nonprofits and foundations. Andrew Franz Architect creates original and imaginative expressions that bridge classic themes and a decidedly modern sensibility. The firm's rigorous, client-focused design process favors engagement, craft, and inventiveness. From master planning, site selection and feasibility studies through design, construction administration and interior design and decorating, the firm offers a full range of services. For more, see http://www.andrewfranz.com.