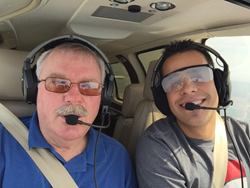 Joe Baginski said, "I am beyond blessed to have the experiences and memories that accumulated over the years and I am grateful to have been nominated and selected for such a prestigious award."
Washington, DC (PRWEB) September 21, 2017
Retired Waynesboro resident and Author of the book "Vietnam Redemption Full Circle", Joe Baginski, will culminate his more than 50 year flying career with an award from the FAA. His flying career started when he was being trained to fly for the Vietnam War, and his love of flying has lasted a lifetime. On Thursday, September 21, 2017, Joe Baginski, who has been teaching V1 Aeronautics at the Hagerstown airport, will receive the prestigious Wright Brothers Master Pilot Award at the Rider Jet Center at 6 PM. The award will be presented to him by the Federal Aviation Administration.
The Wright Brothers Master Pilot Award is the most prestigious award the FAA issues to pilots certified under Title 14 of the Code of Federal Regulations (14 CFR) part 61. This award is named after the Wright Brothers, the first US pilots, to recognize individuals who have exhibited professionalism, skill, and aviation expertise for at least 50 years while piloting aircraft as "Master Pilots."
A distinctive certificate and lapel pin are issued after application review and eligibility requirements have been met. Upon request, a stickpin similar in design to the lapel pin is also provided to the award recipient's spouse in recognition of his or her support to the winner's aviation career. Once the award has been issued, the recipient's name, city and state will be added to a published "Roll of Honor."
To have been eligible for this prestigious award Baginski had to meet the following criteria:

Hold a U.S. Civil Aviation Authority (CAA) or Federal Aviation Administration (FAA) pilot certificate.
Have 50 or more years of civil and military flying experience.
Baginski said, "Learning to fly was one of my most worthwhile achievements because it is a skill that I have carried with me my entire adult life. Flying has effectively granted me opportunities that I would have never experienced, and on the flip side it was the skill that generated some very intense moments for me while serving in the military and flying in the bush in Alaska. I am beyond blessed to have the experiences and memories that accumulated over the years and I am grateful to have been nominated and selected for such a prestigious award."