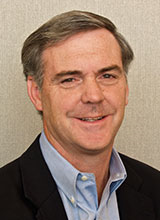 "Our entire team greatly appreciates these awards, which will help us to advance our mission of helping people survive cancer." Preora President and CEO John W. Hart.
Evanston, Illinois (PRWEB) September 21, 2017
Preora Diagnostics Inc., a privately held medical technology company developing low-cost and highly accurate cancer screening tests, has received two prestigious recognitions that acknowledge the promise of its PWS Nanoctyology platform to make dramatic improvements in cancer survival rates.
Preora has been named a Top 100 Finalist for the 16th annual Chicago Innovation Awards. The awards celebrate the most innovative new products and services in the Chicago region across all organization sizes, sectors and industries.
A panel of 12 technology experts reviewed 530 nominations, ultimately selecting Preora as a finalist. Preora is now eligible for the annual "People's Choice Award," selected through online balloting at http://www.chicagoinnovationawards.com/2017-peoples-choice-award. Online voting ends on Thursday, Oct. 5, 2017. In addition, the program awarded Preora a $2,500 scholarship to attend a prominent executive education course at Northwestern University's Kellogg School of Management.
Separately and for the second year in a row, The PROPEL Center of the iBIO Institute awarded Preora one of only five grants to attend the 2017 MedTech Conference in San Jose, Calif. At next week's conference, Preora will meet with organizations interested in pursuing strategic partnerships to help advance the early detection of cancer.
"Our entire team greatly appreciates the support provided by the two organizations. We will use the awards to advance our mission of helping people survive cancer," said Preora President and CEO John W. Hart.
About Preora Diagnostics
Preora Diagnostics Inc. is dedicated to helping people survive cancer through a proven, two-tiered approach to early detection. The company develops proprietary, low-cost, minimally invasive and highly accurate cancer screening tests by detecting and measuring cellular changes at the nanoscale level. The screening tests are based on the proprietary Partial Wave Spectroscopy (PWS) Nanocytology platform, licensed exclusively by Preora through ISO 13485-certified NanoCytomics, LLC and Northwestern University. The Wall Street Journal has named PWS Nanocytology as one of "Six New Medical Technologies Worth Watching," and Corporate LiveWire honored the company with its international "2016 Best in Cancer Diagnostics" award. For more information, visit http://www.PreoraDx.com.