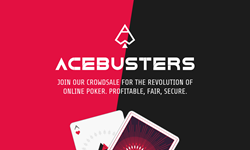 (PRWEB) September 22, 2017
Acebusters is a decentralized poker platform made by obsessive poker and cryptography fans. They strive to create Acebusters as a decentralized application (Dapp) which will offer the service of dealing cards and settling bets. The open and borderless nature of blockchain will allow players from all over the world to connect and create the largest poker liquidity pool seen to date.
In contrast to other projects that raise money with a Whitepaper only, the Acebusters DApp is live and delivering value to customers already. Until now more than 10,000 hands have been played at the beta tables. You can test it yourself at dapp.acebuters.com.
The next milestone is the launch of the crowdsale.
Acebusters has a sophisticated two-token system that equally caters to the interests of users and investors. The Acebusters tokens can be distinguished as Nutz (NTZ), the players' token that allows them to play games and protects the players' bankroll from market volatility, and Acebusters Power (ABP), the investors' and affiliates' token, that allows them to profit from the growth of the Dapp and participate in decision making.
During the crowdsale you can buy Nutz in exchange for Ether. These tokens can be converted to ABP through a process called power-up and ABP can be converted back to Nutz through power-down. ABP is not transferable and represents a bond to the DApp and voting rights within the DApp. The bond can serve as access right to trusted tables and can be slashed, if a player is found cheating or colluding.
Crowdsale Details:
ICO supply:270,000
Total supply:630,000 before, 900,000 after
Accept currency: ETH
ICO start time: 21.09.2017 13:00:00 UTC
ICO end time: 21.10.2017 12:59:59 UTC
ICO scale: 5,000 ETH - 30,000 ETH
Contacts & Links
E-Mail: johann(at)acebusters(dot)com
Website: http://www.acebusters.com
Whitepaper: http://www.acebusters.com/files/acebusters_whitepaper.pdf
GitHub: https://github.com/acebusters
Twitter:http://twitter.com/ace_busters
Discord:https://discordapp.com/invite/7PesDTZ