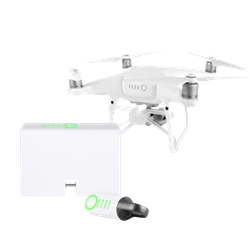 More Than Drone's Imagination! The interesting experience you have never encountered before, FLiFLi AirDrop joins together.
New Jersey, USA (PRWEB) September 22, 2017
Drones have become one of the most popular RC hobbies in American today. The ability to control drones from computer, phone, or tablet has made these aircrafts a more accessible hobby for everyone. FLiFLi is a company that makes products specifically for drones to improve their enjoyment through increased functionality. The FLiFLi AirDrop is their latest product, one quite that has been very well received by drone enthusiasts. The AirDrop boosts the capabilities of the DJI Phantom 3 and 4 Series by enabling the user/controller to drop a package or load from their drone. The AirDrop utilizes an attached bracket and the main device to deliver the item to the ground. This opens the craft up to many fun and utilitarian possibilities.
"We originally developed it while experimenting with our drones to see if they could be used for fishing," says a Spokesperson of FLiFLi. "We later realized that this is a product with far broader purpose than simply trying to cast bait."
Enthusiasts have uploaded videos using the product to drop paint balloons, deliver items, cast bait to fish, take GoPro photos, play darts, and various other uses. The product is lightweight (less than 2.2 lbs), compact, easy-to-install and has a wireless connection of up to 1km. It uses a One-Click remote that takes only a press of one button to release the product.
Specifications for the product can be found on their website (http://www.myflifli.com) or on Amazon. The company is excited to continue to produce items for the Phantom Drones. As enthusiasts themselves, they want to continue to push the envelope when it comes to after-market products. "The goal with these products is to have fun," says the Spokesperson from FLiFLi. "We understand this market because we're also within its demographic. Who doesn't want to drop water balloons from a drone? Who doesn't want to deliver a present using it? This is the type of thing we love and based on early reviews we're not alone."
FLiFLi's customers have posted video testimonials of their use of the AirDrop that can be viewed by going to the website or searching through YouTube. FLiFLi hopes to continue making products for drones and increasing the capacity of the AirDrop.
For more information, visit:
FAD-1000ST (for DJI Phantom 4): https://goo.gl/XD6dK5
FAD-1000AT (for DJI Phantom 3): https://goo.gl/N6eCkY