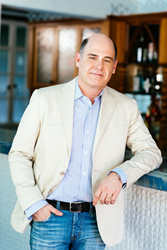 This short novel of upper-crust anomie and class-divide obsession is a scorcher! —James Ellroy
San Rafael, CA (PRWEB) September 21, 2017
Matthew Weiner has been entertaining audiences for two decades, most recently as a writer, creator, executive producer and director of Mad Men, one of television's most honored series. He also worked as a writer and executive producer on The Sopranos, along with several comedy series, and made his feature film debut in 2014.
Tonight Matthew joins KQED Forum host Michael Krasny to discuss his life, career and most recent endeavor HEATHER, THE TOTALITY, a short, daring novel that demonstrates perfectly Weiner's forensic eye for the human qualities that hold modern society together, and pulls it apart.
Presented in Association with Book Passage
What to Expect: An evening of lively conversation in the Hoytt Theater with Cabaret table seating, question & answer opportunities, meet & greet & book sales and signing.
Concessions: Peets coffee, Numi Teas and a variety of snacks and freshly baked goods available for purchase. Concessions that are offered within the theater may be enjoyed throughout the performance. No table service.
WHAT: Mad Men Creator, Matthew Weiner in conversation with KQED Forum's Michael Krasny.
TICKETS: http://www.bookpassage.com/events
$45 Individual Includes ticket & book
$65 Companion Includes 2 tickets & 1 book
General Admission seating a cabaret tables.
WHEN: Tuesday Nov. 14, 2017 @ 7:30
WHERE: The Osher Marin JCC || 200 N San Pedro Rd || San Rafael || 415.444.8000 || marinjcc.org
The Kanbar Center for the Performing Arts is the Performing Arts Department within the Osher Marin Jewish Community Center in San Rafael, California. For close to 25 years they have spread the power of music, voice, humor, taste, culture, movement and words throughout the community by presenting classical music, comedy, musical concerts, jazz, theater and performance in the grand Hoytt Theater, lectures, chats and demonstrations in the Kurland Lounge.