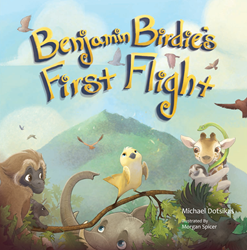 We are always looking to take self-published authors with previous success, like Mike Dotsikas, and launch those authors on a national level that they could never achieve on their own. --Milli Brown, CEO Brown Books
Dallas, Texas (PRWEB) September 22, 2017
What happens when you leap before you're ready to fly? Elephants, giraffes, lemurs, and more work together to get you off the forest floor! All of these animals have one thing in common: they all try to help Benjamin Birdie back to his nest when he falls from the top of his tree. Brown Books Kids is pleased to announce the highly-anticipated national release of Benjamin Birdie's First Flight by Michael Dotsikas.
Imaginative author, Michael Dotsikas, and talented illustrator, Morgan Spicer, vividly bring to life the story of Benjamin Birdie and his helpful animal friends. In this adventurous tale of friendship, compassion, and determination, Dotsikas reminds us that even when things don't go as expected, we can adapt to any situation with humility, kindness, and appreciation and we can learn from our mistakes, gaining valuable and positive lessons from all of life's experiences.
Believing he can fly like all the other birds, Benjamin Birdie takes a courageous leap off the top of the tree – despite his mother's warning that he isn't yet ready. When he tumbles to the forest floor, a lively group of animals below his nest must help him back to the top of his tree.
"We currently live in very divisive times," Dotsikas says. "[Benjamin Birdie] teaches us that we could overcome divisiveness and contention with one simple attribute – kindness." Each animal Benjamin meets tries to help, but it takes a team of creatures - including a tree kangaroo, kinkajou, sloth, and others - to help him get back home. Benjamin Birdie's First Flight shows children that it's perfectly okay to ask for help, and that it's important to always try your best to help others in need. "I want children (and adults) to keep in mind that despite our differences, when we're kind to one another, we can accomplish great things that will fulfill and enrich our lives," Dotsikas says. "Being humble and kind is the best way to live our lives and have the greatest impact on humanity."
Brown Books CEO, Milli Brown, commented: "I'm proud to welcome Michael Dotsikas to the Brown Books family with the release of Benjamin Birdie's First Flight. It wasn't only the quality of Mike's writing and imagination, but also his clear determination, marked by what he was able to accomplish on his own as a self-published author, that caught our attention. As a publisher, we are always looking for opportunities to take promising authors and their books from the self-publishing realm, and with the expertise of our editorial, sales, distribution, public relations, and marketing teams, launch those authors on a national level."
Benjamin Birdie's First Flight soars as an enchanting tale for children to learn about kindness and giving help where it's needed. Dotsikas's cadenced writing style engages children with its cleverly rhyming stanzas, perfect for teaching kids the sounds and descriptions of Benjamin Birdie and his tree-dwelling neighbors. Readers can also learn about Benjamin Birdie's friends through a fully-illustrated glossary, complete with descriptions of each animal and their unique wildlife habitats.
Are you ready to go to the zoo? Remember to bring your copy of Benjamin Birdie's First Flight to find all of the animals who helped him back to his nest! To purchase, visit http://www.MichaelDotsikas.com or bookstores nationwide.
Dotsikas encourages education and support for endangered animal species through organizations such as: World Wildlife Fund (http://www.worldwildlife.org); Defenders of Wildlife/Protecting Native Animals and Their Habitats (http://www.defenders.org); and International Fund for Animal Welfare (http://www.ifaw.org).
About Brown Books Publishing Group (BBPG)
Founded in 1994 as an Entrepreneurial Publisher for Entrepreneurial Authors®, Brown Books Publishing Group was established to fill a need in the publishing world by allowing authors to have a voice in the publishing process while retaining the rights to their intellectual property. Applying this innovative Relationship Publishing™ model, Brown Books has cultivated a prestigious stable of authors, from New York Times bestsellers to Pulitzer Prize winners and more. Boasting hundreds of high-quality books across genres, Brown Books is a fiercely independent publisher that encourages author empowerment. In 1994, Brown Books ushered in A New Era in Publishing™, and more than two decades later, continues to be a successful innovative leader in the publishing industry. For more information, please visit http://www.BrownBooks.com.
About The Agency at Brown Books (ABB)
As a sister company of Brown Books Publishing Group, The Agency at Brown Books is backed by more than 20 years of publishing excellence, leveraged in the first full-service public relations, marketing, branding and distribution provider within a publishing house. The Agency provides high-level public relations, marketing and distribution services for not only Brown Books authors, but also non-affiliated authors, all within the same house. For more information, please visit http://www.TheAgencyatBB.com