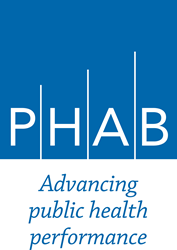 We're excited and honored to achieve national accreditation that recognizes the success our public health programs have in improving the health and wellness of our communities statewide.
Alexandria, Virginia (PRWEB) September 21, 2017
Demonstrating a consistent and continued commitment to improving public health in their communities, nine governmental public health departments have been awarded five-year accreditation status through the Public Health Accreditation Board (PHAB). This month's accreditation decisions mean that the benefits of being served by a PHAB-accredited health department now extend to more than 203 million people, or 66 percent of the U.S. population.
PHAB, the non-profit, non-governmental organization that administers the national public health accreditation program, aims to improve and protect the health of the public by advancing and ultimately transforming the quality and performance of the nation's state, Tribal, local, and territorial public health departments.
"We congratulate these nine health departments for working to serve their communities in the best possible way," said PHAB President and CEO Kaye Bender, PhD, RN, FAAN. "The accreditation process is a rigorous one that requires a commitment to quality and performance improvement. As we all saw this month with the hurricanes in Texas and Florida, public health has been on the front lines, both before, during, and after the events. A dedication to continuous quality and performance improvement is increasingly important for positioning health departments to prepare for and respond to the nation's current and emerging public health challenges."
Seven local health departments and two state health departments were awarded PHAB accreditation on September 13. Among them is the Arizona Department of Health Services in Phoenix, which serves a population of more than 6.5 million people.
"We're excited and honored to achieve national accreditation that recognizes the success our public health programs have in improving the health and wellness of our communities statewide," said Cara Christ, MD, MS, director of the Arizona Department of Health Services (ADHS). "To gain national accreditation, PHAB evaluated the effectiveness of ADHS's public health programs and our continuous quality improvement process. After a site visit from PHAB in July, it was clear our dedicated staff operate effective programs that are improving the health of people in Arizona."
PHAB's national public health department accreditation standards address health departments' capacity to provide the broad range of public health services, including community health assessments, epidemiology, infectious disease control, health inspections, health education and promotion, and public health emergency preparedness.
In Blackwood, New Jersey, Camden County Health Officer Paschal Nwako, PhD, MPH, expressed pride that the Camden County Health Department has achieved accreditation through PHAB.
"Investments in performance management and quality improvement have begun to bear fruit," Dr. Nwako said. "Going by the words of the accreditation team, Camden County Health Department is a competent public health agency with the demonstrated commitment to serving the community's health needs and improving health outcomes. The health department and its staff are highly regarded and respected by community partners and have developed mutually respectful, productive alliances to address long-standing and emerging health issues. Strong leaders maximize the efficient use of sometimes limited resources while collegial and supportive staff relationships contribute to progress towards achieving shared goals."
Public health departments are on the front lines of improving and protecting the health and well-being of people and communities. Across the nation, health departments provide services aimed at promoting healthy behaviors; preventing diseases and injuries; ensuring access to safe food, water, clean air, and life-saving immunizations; and preparing for and responding to public health emergencies.
National accreditation status was awarded September 13, 2017 to:

Allegheny County Health Department. Pittsburgh, Pennsylvania
Arizona Department of Health Services, Phoenix, Arizona
Benton County Health Department, Corvallis, Oregon
Butte County Public Health Department, Oroville, California
Camden County Health Department, Blackwood, New Jersey
Lincoln County Health Department, Merrill, Wisconsin
Mississippi State Department of Health, Jackson, Mississippi
Nassau County Department of Health, Mineola, New York
North Central Public Health District, The Dalles, Oregon
For more information, contact Teddi Nicolaus at (703) 778-4549, ext. 118, or email tnicolaus(at)phaboard.org. Learn more about PHAB and accreditation by signing up for the PHAB E-Newsletter.
About the Public Health Accreditation Board
The Public Health Accreditation Board (PHAB) was created to serve as the national public health accrediting body and is jointly funded by the Centers for Disease Control and Prevention and the Robert Wood Johnson Foundation. The development of national public health accreditation has involved, and is supported by, public health leaders and practitioners from the national, tribal, state, local, and territorial levels. Learn more about PHAB or sign up for the PHAB E-Newsletter by visiting http://www.phaboard.org.