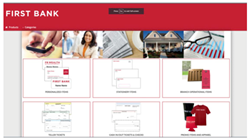 Raleigh, NC (PRWEB) September 22, 2017
"Regency360 has helped First Bank become ultra-responsive in meeting the needs of our branches through its management of all our branded materials." said Cathy Wilkerson, Director of Facilities/ Purchasing. "Innovative thinking is at the core of everything they do and it has helped us to improve our business."
"There are many ways that our Company Store platforms can help small and medium businesses become more effective from helping to add administrative controls to adding the flexibility of apparel on demand," said Eric Beguelin, President of Regency360.
North Carolina banks will now have access to the most innovative support platform for managing custom corporate apparel, printing and promotions provided by a trusted partner of the NCBA.
A trusted partner
Regency360 has a deep history of working with NC Banks with clients including Live Oak Bank, First Bank, F&M Bank and Paragon Bank just to name a few, helping to streamline the efficiency of corporate products and create innovative promotional platforms. This partnership will help NCBA member banks through improved branded materials management, out of the box promotional thinking and access to the best brands and latest ideas in the corporate branding world.
This new partnership will help North Carolina banks create better employee and customer relationships through their print, promotion, apparel and company store efforts.
North Carolina is the second largest banking state in the nation thanks to a commitment to continuous innovation of its banking community. The North Carolina Bankers Association has a long history of supporting its member banks through advocacy, education and exclusive support partnerships. Its wholly-owned subsidiary, Community Bank Services has provided products and services for banks since 1980.
View a video version of this release:
https://youtu.be/Y9Z-W_ANKk0
For more information contact the team at Regency360