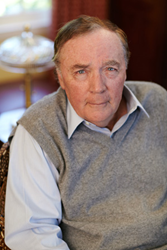 "Manhattan College students have impressed me year in and year out," Patterson said. "This group of scholarship recipients are no different. Their dedication in receiving an education is obvious in their hard work and talents. I'm honored to award this scholarship to such exemplary Jaspers."
RIVERDALE, N.Y. (PRWEB) September 21, 2017
For the sixth consecutive year, best-selling author James Patterson '69 will award 20 Manhattan College students with $110,000 in academic scholarships. The scholarship for the 2017-18 academic year was given to 10 juniors and 10 seniors from the Schools of Liberal Arts, Business, Education and Health, Engineering, and Science.
Patterson started the scholarship program to recognize and reward Manhattan College students who have achieved great academic standing and have shown leadership potential, especially those interested in the field of education. All 20 students received the scholarships based on merit, need and involvement in activities that are tied to the College's mission.
"Manhattan College students have impressed me year in and year out," Patterson said. "This group of scholarship recipients are no different. Their dedication in receiving an education is obvious in their hard work and talents. I'm honored to award this scholarship to such exemplary Jaspers."
The scholarship recipients include:
Juniors
Rinor Ahmetaj, civil engineering (Bronx, N.Y.)
Kaiyun Chen, secondary education (Woodhaven, N.Y.)
Alessandra Palmisano, mechanical engineering (Bronx, N.Y.)
Jaycie Cooper, communication (Monroe, Conn.)
Claudia Ramirez, biology (Guaynabo, Puerto Rico)
Diana Balaj, international studies (Dobbs Ferry, N.Y.)
Karla Ortiz, secondary education (Bronx, N.Y.)
Melissa Gallardo, communication (Islip Terrace, N.Y.)
Meghan Polhemus, chemical engineering (Pine Beach, N.J.)
Muhammad Buttar, civil engineering (Brooklyn, N.Y.)
Seniors
Mia Bertolli, biology (Leonia, N.J.)
Lorraine Bishop, radiation therapy technology (Bronx, N.Y.)
Carly Corbett-Frank, international studies (Winthrop, Mass.)
Kathia Coronado, mechanical engineering (Bronx, N.Y.)
Shane Duggan, finance (Pearl River, N.Y.)
Alessandra Eraifez, English (Yonkers, N.Y.)
Maria Mazo, biology (Yonkers, N.Y.)
Yulemmy Mendez, physical education (Bronx, N.Y.)
Shimul Miah, international studies (Bronx, N.Y.)
Lisa Marie Nilaj, civil engineering (Scarsdale, N.Y.)
The scholarship program will award $5,000 to each of the 20 recipients. All seniors are eligible to apply to receive one of four additional $2,500 awards based on essay submissions. The seniors will submit essays detailing their various accomplishments during their junior year and their personal vision for plans after graduation.
"We continue to be extremely grateful for James Patterson's generosity and steadfast support of our students," said Brennan O'Donnell, president of Manhattan College. "His scholarship program has enabled us to recognize and reward some of our best and brightest."
Patterson has sold more than 350 million books as of 2016 and still holds the Guinness record for the most consecutive No. 1 novels on The New York Times Best Sellers List. His well-known books include Alex Cross, Women's Murder Club and the Michael Bennett series, along with his popular children and young adult novels.
In 2016, Patterson was named Book Industry Charitable (BINC) Foundation's Inaugural Ambassador alongside fellow author Ann Patchett. The nonprofit foundation helps owners and employees of bookstores with financial burdens when crises arise. BINC selected Patterson as their first ambassador because of his donation of $2 million to independent bookstores and libraries in 2015.