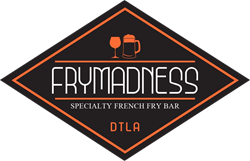 Los Angeles (PRWEB) September 21, 2017
Los Angeles diners have a new option in the Los Angeles Historic Core, Fry Madness. The restaurant is announcing its official ribbon cutting September 25 at 5 PM during their Downtown Los Angeles (DTLA) Appreciation week that runs September 25 through September 28.
"We've raised the bar, creating a whole new experience where the side is the main dish, and our unique specialty Hoptail cocktails are the side," said Owner, Shawn Laleh. "Our culinary concept provides a new twist on french fries and adds a brand new new element to the DTLA food scene."
Specialty Hoptails include the Belladonna made from pressed berries, french vermouth bitters and red ale.
Fries Go Mainstream
The new downtown eatery makes french fries the main dish with offerings that include everything from Spiced Lobster Fries, with charred shishito and ginger flower blossoms, to Mint Chocolate Chip Ice Cream Fries made with sweet potatoes and brownie bits.
According to Laleh, "In the face of the innovative culinary concepts sweeping the nation, STNY Restaurant Group has come up with a truly unique taste and innovative dining experience." He added that Fry Madness is the group's second successful launch, and their first on the west coast.
Free Range Fries
For more cautious diners, Fry Madness also offers free range options, with housemade dipping sauces including Sriracha Aioli, Truffle Aioli, and Chutney Mayo.
Event Details
Fry Madness, 557 South Spring Street, Los Angeles, CA
Ribbon cutting on Wednesday, September 27 at 5 PM
DTLA Appreciation Week, Monday, September 25 through September 28
Open to the public
Event contact: Shawn Laleh (858) 337-8445
Social Media: Instagram, Twitter, Facebook
About Fry Madness
Teaming up to open Los Angeles' newest themed restaurant and bar, Springtime in New York (STNY) partners Tony Talasazan and Shawn Laleh want to raise the bar in culinary innovation. They want to set a new standard in down-to-earth dining with their unique cuisine, charismatic staff, and industrial, yet friendly restaurant design concept.