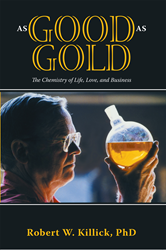 MELBOURNE (PRWEB) September 25, 2017
Organic chemist Robert W. Killick, PhD shares his extraordinary journey from unemployment to unlikely entrepreneur in his inspiring memoir "As Good as Gold: The Chemistry of Life, Love, and Business."
After losing his job and being told repeatedly he was too qualified to be hired, Killick came up with a creative solution. He teamed up with his wife to buy, mainly on borrowed money, a 50-year-old decrepit chemical factory. Through sweat and tears, they developed environmentally-sound products and obtained several international patents.
"A lady at the launch of her own memoirs strongly suggested that each person in the audience should write their own for their family and others who might be interested," said Killick. "My wife and I agreed it was a good idea, particularly for our grandchildren who have never known our years of struggle and whose eyes had only seen success."
Kirkus Reviews stated that "readers who have experience with family business will find much in common with the author, who's an entertaining guide through his own journey."
Join Killick, his wife, and his team on an exciting ride that proves that one can achieve extraordinary business success while maintaining integrity and adhering to Christian principles.
"As Good as Gold: The Chemistry of Life, Love, and Business"
By Robert W. Killick, PhD
ISBN: 9781504307055 (softcover); 9781504307062 (eBook)
Available at the Balboa Press Online Bookstore, Amazon and Barnes & Noble
About the author
Robert W. Killick, PhD, studied organic chemistry at Sydney University and spent 18 years working with the Unilever organization. With his wife, Judy, they bought the Victorian Chemical Company, and have multiplied the business turnover more than thirtyfold over 34 years. Killick and his wife live in Melbourne, Australia, and have one daughter, two sons, and six grandchildren. To learn more, please visit http://www.robertwkillick.com.
###
Review Copies & Interview Requests:
LAVIDGE – Phoenix
Bryan Beach
480-306-6554
bbeach(at)lavidge(dot)com
General Inquiries:
LAVIDGE – Phoenix
Chris Peña
480-306-7065
cpena(at)lavidge(dot)com