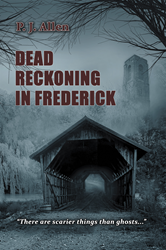 FREDERICK, Md. (PRWEB) September 25, 2017
As a resident of Frederick, MD, author P. J. Allen uses this setting and incorporates its history, institutions, and local sites to tell a fictional story in "Dead Reckoning in Frederick."
When Kayla Dunn, photographer for the Dulany Paranormal Team, discovers a murdered girl in Carroll Creek, no one believes that there is any connection between the victim and the team's challenging assignment from the Frederick County Landmarks Foundation. As paranormal activities continue to increase in Frederick's heritage homes and buildings, it becomes apparent that the spirits have a message.
"As with my previous books, a social issue drives the story," said Allen. "In 'Dead Reckoning in Frederick,' I wrote the story to expose how the rich and powerful can prey on those most vulnerable and that sometimes there are unimaginable forces that can help hold those who exploit accountable."
"Dead Reckoning in Frederick" is a paranormal fiction novel centering on a murder mystery and historical intrigue in Frederick, MD.
"Dead Reckoning in Frederick"
By P. J. Allen
ISBN: 9781524695514 (softcover); 9781524695521 (hardcover); 9781524695538 (eBook)
Available at the AuthorHouse Online Bookstore, Amazon, Barnes & Noble, Politics and Prose Bookstore, and Green Apple Books, among many others.
About the author
P. J. Allen is a resident of Frederick, Maryland. She has worked to promote health and education in developing countries in South Asia, Africa, Eurasia, and the Middle East. "Dead Reckoning in Frederick" is Allen's fourth novel, following "Deadly Untruths," "The Yeti Quotient," and "Lies Beneath Ellicott City." To learn more, please visit http://www.pjallen.com.
###
Review Copies & Interview Requests:
LAVIDGE – Phoenix
Bryan Beach
480-306-6554
bbeach(at)lavidge(dot)com
General Inquiries:
LAVIDGE – Phoenix
Chris Peña
480-306-7065
cpena(at)lavidge(dot)com