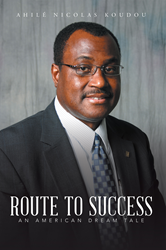 KANSAS CITY, Mo. (PRWEB) September 25, 2017
Ahilé Nicolas Koudou was an African child who grew up in a small village in Cote d'Ivoire and later gained success overseas by furthering his education and working hard to fulfill his dreams, as detailed in his autobiography "Route to Success."
Despite the limited opportunities for a child during the postcolonial years, Koudou's parents thought that the future of their child was to be assimilated to Western culture. Hence, at six years old, the child was sent to school away from his native and natural environment. This early decision of his parents enrolling him in school led him to successfully complete his education in Cote d'Ivoire and later in North America.
"In this book, I proudly share my lifetime of experiences and encourage the younger generation to work hard and live with determination, courage, perseverance, and a desire to succeed for fulfillment of a better life," said Koudou.
"Route to Success" is the true story of a man from humble origins who strives for more by getting an education and never giving up on his dreams.
"Route to Success"
By Ahilé Nicolas Koudou
ISBN: 9781543433258 (softcover); 9781543433265 (hardcover); 9781543433241 (eBook)
Available at the Xlibris Online Bookstore, Amazon, and Barnes & Noble
About the author
Dr. Nicolas Koudou is a Professor of Business Administration at Park University, Kansas City, Missouri. He has lectured at Butler University and the University of Indianapolis. Koudou also worked as a visiting professor at Université Africaine de Technologie et de Management and at Institut Universitaire du Benin in Republic of Benin. Born in Doukouyo, Ivory Coast, he received his BA in Business Administration at the University of Indianapolis, a MBA degree from Butler University in Indianapolis, and went on to receive his PhD degree in Forest Products Marketing at Louisiana State University, Baton Rouge, Louisiana.
###
Review Copies & Interview Requests:
LAVIDGE – Phoenix
Bryan Beach
480-306-6554
bbeach(at)lavidge(dot)com
General Inquiries:
LAVIDGE – Phoenix
Chris Peña
480-306-7065
cpena(at)lavidge(dot)com