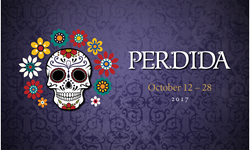 Salt Lake City, UT (PRWEB) September 22, 2017
Salt Lake Community College's Grand Theatre will host Perdida, an adaptation of Shakespeare's The Winter's Tale. The show runs Oct. 12 - 28.
With book and lyrics written by Kathleen Cahill and music by Deborah Wicks La Puma, the production is set in pre-revolutionary Mexico. As the drama of Shakespeare merges with the Latino style of magical realism in this new musical, you'll be taken to a world filled with spirits, telling a story of passion, jealousy, and redemption.
When a powerful don believes that his pregnant wife has been unfaithful, his reaction affects him and his newborn daughter for the rest of their lives. It is only through the vision and courage of an abandoned child, Perdida, that all that was lost is finally found again. Dealing with themes of life and death, the story centers on Day of the Dead, the Mexican celebration where families gather together to celebrate their loved ones who have passed away.
As part of the Backstage Series at the Grand Theatre, Perdida, is under the direction of Larry West and Emilio Casillas, with Mike Leavitt as musical director and Frida Moses as choreographer. Tickets are $20 and are available at http://www.GrandTheatreCompany.com.
The landmark Grand Theatre is a 1,100-seat venue located at Salt Lake Community College's historic South City Campus, home of the innovative and state-of-the-industry Center for Arts and Media at 1575 South State Street in Salt Lake City. The theatre dates back to the 1930s when it was part of South High School, which SLCC purchased in 1989, a year after the school closed. The Grand Theatre began offering productions that year and has since with great care and expense retained its Depression-era charm and attraction while also incorporating the latest technology in lighting and sound. For the past three years it has been an official screening venue for the annual Sundance Film Festival. Every season the Grand is host to award-winning theatre and dance productions and concerts that attract arts enthusiasts from all along the Wasatch Front.