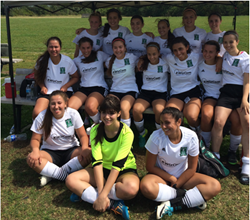 We'd like to thank KWizCom for sponsoring our U17 Girls team. Fielding a competitive team in the CSL could not be possible without their generous partnership. KWizCom's sponsorship helped us run a successful 2017 summer season where we placed 4th out of 16 Ontario Regional teams
Toronto, ON (PRWEB) September 21, 2017
KWizCom, a leading global developer of SharePoint Forms & Mobile Solution, as well as multiple other powerful SharePoint web parts, add-ons and apps for Office 365 (SharePoint Online) designed to expand Microsoft SharePoint, supports the local community by becoming a sponsor of the local Richmond Hill Soccer Club U17 Girls team.
Richmond Hill Soccer Club was founded in 1968 and is currently the largest recreational club in the town of Richmond Hill, ON and the largest soccer club in York Region. RHSC has about 7,000 year-round registrations, with approximately 90% of the club's members being under the age of 19.
"We'd like to thank KWizCom for sponsoring our U17 Girls team. Fielding a competitive team in the CSL could not be possible without their generous partnership", says Bruno Panzica, the Team Manager and Assistant Coach. "KWizCom's sponsorship helped us run a successful 2017 summer season where we placed 4th out of 16 Ontario Regional teams.
Richmond Hill Soccer Club is a major site for Ontario Cup, League Cup games and tournaments. In 1996, RHSC ran the first Richmond Hill Challenge Cup tournament. The Challenge Cup Tournament & Festival is now one of Ontario's premier tournaments and festivals with teams coming from all over Canada and the United States.
"Over the last number of years, soccer has grown in popularity and has gone from a summer sport to all year round. Training all year round would not be possible without the help of corporate sponsors like KWizCom. The team and girls appreciate the support. Thank You", elaborates Mr. Panzica.
For more information on RHSC, please visit the club's website at http://www.richmondhillsoccer.com/.
Follow KWizCom on Twitter @KWizCom
Become a fan of KWizCom on Facebook: https://www.facebook.com/KWizCom
Join KWizCom on LinkedIn http://www.linkedin.com/company/kwizcom
Contact a KWizCom Account Specialist at +1-905-370-0333/+1-855-KWIZCOM or info(at)kwizcom.com
About KWizCom Corporation
Since 2005, KWizCom has provided innovative solutions and services to make SharePoint even better for over 7,000 companies worldwide. KWizCom's solutions and services expand Microsoft SharePoint out-of-the-box capabilities, streamline workflow, maximize efficiency and enhance over-all productivity for hundreds of thousands of users. KWizCom, a Gold Certified Microsoft Partner, is headquartered in Toronto, Canada. Please visit http://www.kwizcom.com to find out more about KWizCom's clients, people, partners and solutions.