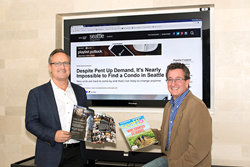 Seattle, WA (PRWEB) September 21, 2017
Representatives of Realogics Sotheby's International Realty (RSIR) and Tiger Oak Media, publisher of Seattle Magazine announced today a new real estate portal to host content in print and online with SeattleMag.com. The exclusive platform will distribute news media from The FutureCast Forum – a collaborative of third-party opinion leaders that explore current and projected market fundamentals influencing the Seattle/Bellevue metro area by 2020 and beyond. It's founding members and guest columnists will provide timely insights on the state of the economy, commercial and residential development, evolving demographics, wealth management considerations, government policy, lifestyle trends and international influences that are shaping the regional landscape. RSIR will also feature relevant property listings on the new media channel.
"Seattle Magazine has been a real-time chronicle of the Pacific Northwest for more than 50 years," said John Spear, Associate Publisher of Tiger Oak Media. "Now we can provide news and views about the next decade through our new media syndication with the FutureCast Forum and Realogics Sotheby's International Realty. Our region is evolving at an unprecedented rate and our readers will enjoy their timely perspective on where we're headed."
Beginning October 2017, Seattle Magazine will include a full-page feature provided by The FutureCast Forum as well as weekly posts on its popular website and social media channels. The media partnership will be celebrated during an evening reception on September 28th. Spear will moderate a BISNOW panel discussion with FutureCast Forum members for registered guests.
"We're thrilled to partner, once again with Tiger Oak Media on this creative and well-timed program," said Dean Jones, President and CEO of RSIR. "Our FutureCast Forum members will offer compelling content so consumers can monitor how our region is developing today and into the future. This is the start of a broader conversation and should be as eye-opening to others as it was for me."
Guests are welcomed to register for more information at http://www.Seattlein2020.com. An initial web launch will take place September 26th, 2017.
About Realogics and Realogics Sotheby's International Realty (http://www.Realogics.com & http://www.RSIR.com) - Founded in 2002, Realogics, Inc. is a leading resource for market research, product development and marketing solutions for developer and lenders of residential and mixed-use projects throughout the Pacific Northwest. Realogics offers turnkey sales management services through its affiliated brokerage at Realogics Sotheby's International Realty (RSIR). Recognized by the Puget Sound Business Journal amongst the fastest-growing private companies in Washington State for 2012, 2013, 2014, 2015 and 2016, RSIR is comprised of 225+ brokers that consistently rank among the top producing among their peers with branches in downtown Seattle, Bainbridge Island, Kirkland, Issaquah and Madison Park.
EDITORS NOTE: Development renderings, neighborhood aerials and additional market statistics are available upon request.