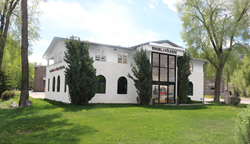 There is respect, not a sense of competitiveness between us.
Basalt, Colorado (PRWEB) October 02, 2017
Engel & Völkers, a European-based premium real estate brand, is pleased to announce today that the real estate advisors of Basalt Realty have joined Erik and Summer Berg of Engel & Völkers Aspen to form an expanded Engel & Völkers Roaring Fork shop. The newly renovated shop will be located at 206 Cody Lane, Basalt, and will be the home of E&V Basalt's existing four brokers, as well as Basalt Realty's eight brokers.
In December 2015, Engel & Völkers' first location in the Valley opened in Aspen as a result of the merger of Portfolio Aspen Properties with the international brand. "We saw an opportunity to provide a global reach to our Aspen market. Engel & Völkers provides an invaluable worldwide network that perfectly aligns with our client-centric culture," said Summer Berg, co-owner of Engel & Völkers Aspen. A year later Engel & Völkers Aspen merged with Happy Real Estate in Basalt to create Engel & Völkers Roaring Fork.
Basalt Realty, founded in 1971, was acquired by Darryl Grosjean in 1978. Over the past 40 years, the company has been pivotal to the sale of residential and commercial properties throughout the mid-Valley. Grojean and his business partner, Joanie Haggerty, felt it was time to bring the company, and the next generation of brokers, to a new level in the digital age - to become something bigger and better. After much research, they found their first choice partners in Summer and Erik Berg. The Basalt Realty family and the Engel & Völkers' family share the same values of competence, passion and teamwork. As Grosjean stated, "There is respect, not a sense of competitiveness between us."
The acquisition of Basalt Realty by Engel & Völkers Roaring Fork will not only put Basalt Realty center stage in the mid-Valley, it will debut Basalt on the world stage with E&V's global reach and state-of-the-art technology. The global network and brand recognition of Engel & Völkers will greatly benefit local sellers as the region continues to experience growth and an influx of second-home buyers. Though Engel & Völkers is a worldwide company, the shops are locally-owned and locally-operated. This aspect of the business was essential to Grosjean and Haggerty when considering the transition for Basalt Realty.
The timing of the change for Basalt Realty serendipitously coincided with the launch of E&V's Extensive Domestic & Global Exposure (EDGE), its newest platform, designed to maximize exposure of Engel & Völkers' property listings to qualified, targeted buyers worldwide. EDGE provides targeted advertising, lead generation, language translations and consumer insights that are seamlessly shared with E&V's advisors and clients.
As a result of this newest merger, Engel & Völkers' dynamic regional team has expanded to include 28 advisors, eight staff, and counting. Strength in numbers brings broader experience, greater community involvement and a richer history to the E&V brokerage family.
With the opening of shops in San Francisco, Newport Beach, New York, Montreal, Toronto, Hilton Head, New Orleans, Vancouver and throughout the Los Angeles area, among others, Engel & Völkers continues to bolster its presence in the real estate market across North America.
About Engel & Völkers
Since its beginning in 1977 as a specialty boutique providing exclusive, high-end real estate services in Hamburg, Germany, Engel & Völkers has become one of the world's leading companies specializing in the sale and lease of premium residential and commercial property, yachts and private aviation. Engel & Völkers currently operates a global network of over 9,500 real estate advisors in more than 775 brokerages spanning 32 countries across five continents, offering both private and institutional clients a professionally tailored range of luxury services. It established Engel & Völkers North America in 2007 and assembled a team of the industry's top leaders, performers and real estate innovators to expand operations in the U.S., Canada and Mexico. Committed to exceptional service, Engel & Völkers supports its advisors with an array of premium quality business services; marketing programs and tools; multiple platforms for mobile, social and web; as well as access to its global network of real estate professionals, property listings and market data. Engel & Völkers is an active supporter of the Fair Housing Act and the Equal Opportunity Act. Each brokerage is independently owned and operated.