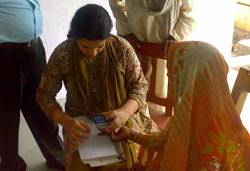 People who have scarcely seen a dime suddenly have access to a full suite of digital financial services. However, all of this is dependent on proof of customer identity. That's what DFT Empower provides, and no other option currently exists.
Birmingham, Alabama, USA (PRWEB) September 25, 2017
Diamond Fortress Technologies, developers of ONYX - software that allows fingerprint biometric authentication on almost any smartphone via the rear-facing camera, announces today the launch of DFT Empower. DFT Empower is a wholly-owned subsidiary of Diamond Fortress charged with promoting financial inclusion throughout the developing world. The new entity is working with financial institutions, software integrators, micro-finance organizations and others who require mobile biometrics and are focused on geographic areas where people are underserved and often unserved.
Chace Hatcher, CEO of both companies, remarked, "We saw how getting more people involved in the global financial system would benefit not only the newly-banked individual, but also his or her community."
Using Diamond Fortress' main software offering, ONYX, DFT Empower can allow people to open a bank account remotely using only their phone without a touch-based fingerprint sensor. Because ONYX is touchless, it's more accurate and captures the entire finger pad (most touch-based sensors get a third of the pad, at most.)
Additionally, DFT Empower was recently awarded a grant from DFS Lab (which is funded by the Bill & Melinda Gates Foundation) to enhance the liveness detection and anti-spoofing capabilities of ONYX.
DFT Empower's first partnership is with Paysys Labs Pvt. Ltd, a software integrator in Pakistan. With close cooperation between Paysys Labs and DFT Empower, Paysys integrated their Instascan mobile solution into JS Bank Ltd's mobile solution, J-Cash.
The Chief Digital Officer at JS Bank, Mr. Khurram Shaikh said, "JS Bank is pleased to be the first bank in Pakistan to introduce the mobile-based biometric authentication technology which will cater to our banking customers' needs by providing a much more convenient way to authenticate themselves and avail our banking services instantly."
J-Cash, with ONYX-embedded Instascan, allows consumers to verify their identity against the Pakistan National Database and Registration Authority ("NADRA") system for the purpose of sending and receiving domestic remittances in compliance with forthcoming Pakistan Central Bank regulations.
Operating with a mandate to enable financial inclusion to emerging markets, DFT Empower will change the lives of people in lower and low income areas throughout the globe.