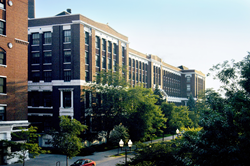 Rare opportunity to buy two large historic properties with tax incentives located in the path of progress, just 10 minutes from Chicago downtown, conveniently located blocks from the 290 Expressway and a CTA 'L' train station.
Chicago, IL (PRWEB) September 25, 2017
NRC Realty & Capital Advisors, LLC, in conjunction with Newmark Knight Frank, is offering creative reuse developers, opportunistic investors, corporate or institutional users the opportunity to buy one or all of four properties situated on the historic former headquarters of Sears, Roebuck, & Company and Allstate Insurance Company. Located in Chicago's Homan Square neighborhood, which is 4 miles west and a 10-minute drive from downtown Chicago. The four contiguous properties include the former Sears Administration Building, which is five stories with 280,558 total square feet and large floor plates; the former Allstate Headquarters, which is eleven stories with 324,147 total square feet and large floor plates, an 1,150 space 3-story parking structure; and an adjacent 3.42-acre vacant development site. Offers are requested by October 24, 2017. More information is available at http://www.NRC.com/1717.
The Homan Square campus was part of several million square feet of former Sears space which has been undergoing continuous redevelopment over the past 35 years with a mix of commercial and residential projects. The pace of development has accelerated in recent years with the opening of the Charles H. Shaw Technology and Learning Center, which houses a charter school, in 2009, a YMCA in 2010, and a multi-tenant office tower, called Nichols Tower, which opened in 2015 and is now fully leased. Most recently the Lofts on Arthington, a 181-unit apartment building utilizing the former Sears Merchandise Development and Laboratory building, was opened on the campus just three months ago and is already fully leased. Additional Homan Square development includes a YMCA, Chicago Police Department offices, 1,000 units of new housing, a private park onsite, and nearby shopping.
David Levy, Vice President of NRC Realty & Capital Advisors commented, "The Lofts at Arthington has been overwhelmingly successful and proves both the adaptive reuse potential in this location and the growing appeal of this neighborhood as a transit-oriented development location. The properties are located in the path of progress, just four blocks from the CTA Blue Line Kedzie-Homan Station and the 290 Expressway and just 5 minutes from the Illinois Medical District with Rush University, University of Illinois and Cook County Hospitals and medical schools, and the regional headquarters of the Red Cross and FBI." Levy continued, "There has been a lot of exciting development in this area recently including the new Bulls and Blackhawks practice facilities, Malcolm X College Campus, and the Lagunitas Brewing Company Chicago Brewery and Taproom. Given our size, strength of our workforce, and extensive public transportation system, the Chicago area is poised for growth and is a real contender for the new Amazon headquarters."
These properties offer a variety of tax incentives and benefits according to Ted Prillaman, Senior Managing Director of Newmark Knight Frank, "The former Sears Administration building is a historic landmark eligible for tax benefits, the former Allstate headquarters can be designated historic as well. The properties are situated in a Federal Empowerment Zone, a City of Chicago TIF District, and an Enterprise Zone creating other tax benefits and incentives."
Interested parties can view the property on four separate dates, September 27, October 4, October 11, and October 17. Contact David Levy at NRC at 312-278-6870 to schedule a viewing.
NRC Realty & Capital Advisors, LLC specializes in the accelerated sale of commercial and residential real estate nationwide. Since its inception in 1989, NRC has sold more than 15,000 properties for variety of corporate clients, government agencies, leading banks and developers throughout the United States. For more information, visit http://www.nrc.com.