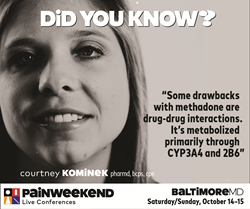 There's a fundamental lack of education in the medical community and community at large regarding opioids and treatment options.
Montclair, NJ (PRWEB) September 26, 2017
Dr. Ira Kornbluth, CEO of the Maryland Society of Interventional Pain Physicians, comments, "Earlier this year, Governor Larry Hogan declared a state of emergency in response to the Maryland opioid addiction crisis. There's a fundamental lack of education in the medical community and community at large regarding opioids and treatment options. There are practitioners in this state who are not providing the best care because they are unaware of the CDC guidelines for managing acute and chronic pain."
PAINWeekEnd (PWE) on October 14/15 at the Sheraton Baltimore Inner Harbor, 300 S. Charles Street, will be an educational and up-to-the-minute 2-day program providing busy clinicians and allied healthcare practitioners with 12.0 hours of relevant, practical instruction in the management of chronic pain.
"Let's take back pain management," says Michael R. Clark, MD, MPH, MBA, who will be presenting Chronic Pain Assessment at PWE Baltimore. "Education is the first step. If we truly want the best for our patients in pain, we must start by educating ourselves about the best options for them," continued Dr. Clark, who is Vice Chair, Clinical Affairs, Johns Hopkins University School of Medicine, and Director of the Pain Treatment Programs at Johns Hopkins Medical Institutions, Department of Psychiatry & Behavioral Sciences in Baltimore.
Dr. Clark will also be presenting How Does Acute Pain Become Chronic. Other courses include (and are subject to change) Reefer Madness: Taking the Insanity Out of Medical Cannabinoids; What's All the "GABA" About? Pregabalin and Gabapentin Abuse; Evidence-Based Approaches to Chronic Pain Management: Time to Reconsider the Benefit of Technophilism?; Not for Human Consumption: New Drugs of Abuse and Their Detection; A Gathering Storm: Are Perioperative Opioids Problematic?; Nonopioid Analgesics: Antidepressants, Adjuvant Therapies, and Muscle Relaxants; Embrace 2017 Practice Changes and Patient Education: Overview of Critical Pain Management Practice Issues; Innovative Interventional Approaches to Pain Management in the Elderly; Managing Opioid Risks & Adverse Effects in a Politically Charged Environment; and Get Your Specimens in Order: How to Avoid Bad Company and Tame the Paper Beast Associated With Testing Drugs of Abuse.
Commercially supported activities—addressing a range of product, disease state, and medical information topics—will also be presented.
Online registration fee for this PAINWeekEnd Conference: $199. PAINWeekEnd registrants may register for the PAINWeek National Conference, September 5-9, in Las Vegas, for $200 off the current online published price.
PAINWeekEnd is provided by Global Education Group. About Global Education Group:
Global Education Group focuses on producing partnership-based CME for healthcare practitioners. The Global team works with a select group of medical education companies, associations, academic institutions and healthcare facilities to develop and accredit live healthcare conferences and workshops as well as online activities. With each partnership or joint providership, Global brings accreditation expertise, project management excellence and grant funding intelligence. Based in Littleton, Colo., Global has accreditation with commendation from the ACCME. Global also holds accreditations to offer continuing education for nurses, nurse practitioners, pharmacists, dietitians, dentists and psychologists. Global is a division of Ultimate Medical Academy.