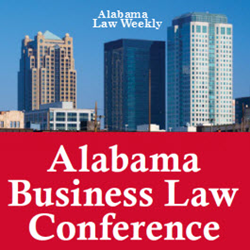 We are obviously honored to have Justice Sellers speak and provide his best-practices insights.
(PRWEB) September 26, 2017
The Alabama Supreme Court's newest Justice, William B. Sellers, has joined the faculty of the Alabama Business Law Conference on Friday, October 27 in Birmingham.
After nearly 30 years as a practitioner with a focus on, among other things, taxation, business organizations, and finance, Justice Sellers will provide attorneys with his perspective on business law issues, emerging trends, and tips for successful appeals.
Other topics at this one-day business law attorney summit include rights and liabilities of managers and members under Alabama's LLC Act, drafting covenants under Alabama's Restrictive Covenant Law, piercing the corporate veil for business owners and lawyers, effects of bankruptcy on relationships with customers and vendors, including clawbacks, and responding to data breach and cyber-security mishaps.
"Alabama's LLC Act changes and a variety of other issues make this an important conference for business law attorneys," says Alabama Law Weekly Executive Editor Joan Marie Sullivan. "We are obviously honored to have Justice Sellers speak and provide his best-practices insights."
Joining Justice Sellers on the faculty are Alabama attorneys C. Ellis Brazeal, III of Jones Walker LLP, F. Gerald Burnett of Cabaniss, Johnston, Gardner, Dumas & O'Neal LLP, Adam K. Israel and Will Hill Tankersley of Balch & Bingham LLP, Jonathan W. Macklem of Christian & Small LLP, and Charles A. Ray of Lanier Ford Shaver & Payne P.C.
Mark Moody, Assistant General Counsel of the Alabama State Bar Center for Professional Responsibility will also speak on legal ethics.
About Alabama Business Law Conference
Now in its 3rd year, the annual Alabama Business Law Conference is a professional development and networking CLE event presented by Alabama Law Weekly, a publication of M. Lee Smith Publishers. It will take place on Friday October 27 at the Embassy Suites Birmingham-Hoover and is approved for 7 hours of CLE credit, including an hour of ethics.
About M. Lee Smith Publishers
Founded in 1975, M. Lee Smith Publishers serves the Alabama legal community with case law and legislative information products, such as Alabama Law Weekly, and a variety of online and in-person CLE learning events on major areas of law practice.
Contact: Pete McPherson, BLR, at 800-727-5257, ext. 3256 or pmcpherson(at)blr(dot)com