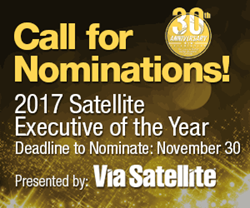 Rockville, MD (PRWEB) September 22, 2017
Via Satellite, a publication providing expert business analysis and technical insights into the satellite, telecom and wireless industries for 30 years, is now accepting nominations for the most prestigious award in the industry, Via Satellite's Satellite Executive of the Year Award. The honoree is chosen for durable contributions made to the global satellite market including innovative technologies, best practices, important services, or any combination of these. Likewise, it recognizes lasting contributions of their achievements.
This year's Satellite Executive of the Year Award winner also celebrates the 30th Anniversary of the award.
The March 2018 issue of Via Satellite will honor and announce the most outstanding industry executive of the year, followed by a special celebration and luncheon at SATELLITE 2018. The honoree will be selected from a pool of candidates by the Via Satellite editorial staff, including Editorial Director, Mark Holmes.
The deadline to nominate an executive for this prestigious award is November 30, 2017. To nominate an executive, please click here.
The 2016 honoree was Stéphane Israël, Chairman & CEO of Arianespace. "2016 was a year where Arianespace continued to be the gold standard in the launch services sector. And thanks to its outstanding performance, Stéphane Israël, the chairman and CEO of Arianespace, has been voted our Satellite Executive of the Year," said Mark Holmes.
The 2017 Satellite Executive of the Year Award winner will be announced at a special luncheon during SATELLITE 2017 happening March 12-15, 2018 at the Walter E. Washington Convention Center in Washington, D.C.
For more information, please visit http://www.viasatellite.com/nominations
About Via Satellite
For nearly 30 years, Via Satellite has provided essential news and expert business analysis on the global commercial communications satellite industry, including current and evolving applications, infrastructure issues, technology, and business and regulatory developments around the world. Top satellite executives from 160 countries read Via Satellite to fully understand the industry and maximize their companies' profits.