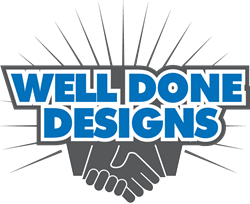 It Makes Our Day When We Hear Customers Say, "Well Done"
Lancaster, California (PRWEB) September 25, 2017
Order Custom Tee Shirts Online
Welldonedesigns.com would like to announce the launch of its new website. No need to be concerned about garment selection, expensive graphic designers, substandard printing, and shipping. WDD has the answer. Go to welldonedesigns.com where all orders are printed and shipped within 5-10 days. And every garment we ship is shipped with a 100% customer satisfaction guarantee.
Designing tee shirts, hoodies, and other decorated apparel is easy with welldonedesigns.com. Simply go to our website, select a garment, unload a logo, or create a design and place it on the garment, and click submit order. Website pricing is all inclusive; free art review, free setup, free shipping.
All printing is done in the USA. At our facility located in Lancaster, California we print and ship hundreds and even thousands of custom tee shirts daily. From art inspection to quality control protocols, printing great looking garments is what we do. All orders are shipped within the time frame stipulated on our website.
Starting with our highly experienced press operators, bagging and shipping department, administrative staff, and customer service personnel; we work to provide the best online pricing, product selection, and turnaround. After 12 years and 8 months printing custom apparel, we have listened, learned and implemented what it takes to make happy customers.
Visit our website, call us with any questions or concerns, and know that we are always available to help. We welcome observations and feedback; as it is key to achieving our ongoing goal of providing excellent products and service.