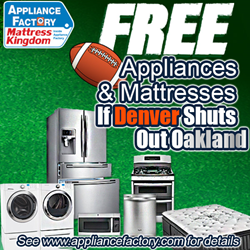 "We've been betting for over 10 years that Denver will shut out Oakland and this year Denver has the best defense in the league and the best chance to do it"
Denver, CO (PRWEB) September 25, 2017
Colorado appliance retailer has a lot of confidence in Denver's defense, $1 million worth of confidence. This week marks the return of Appliance Factory Mattress Kingdom's famous Denver vs. Oakland promotion. If Denver shuts out Oakland everyone that purchased eligible appliances the week before will get them free.
"We've been betting for over 10 years that Denver will shut out Oakland and this year Denver has the best defense in the league and the best chance to do it" said Chuck Ewing CEO of Appliance Factory & Mattress Kingdom and longtime football fan.
A few reasons this could be the year:

Since 2000 there have been 121 shutouts in the NFL. Here are a few notable shutouts:
o Oakland was shutout by St. Louis in 2014 52-0
o Giants were shutout by the Eagles in 2014 27-0
o Atlanta was shutout by Carolina in 2015 38-0
o New England was shutout last year by the Bills 16-0

Oakland has been shut out seven times since 2000, 4th most in professional football.
This year we've already seen one shutout in 31 games and three games where a team only scored three points.
o Bengals were shutout by the Ravens 20-0
o Bills were held to a field goal by the Panthers 9-3
o Giants were held to three points by the Cowboys 19- 3
o 49ers only scored three points against Carolina. 23-3