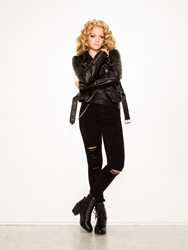 I would be happy to help First Lady Melania Trump with her platform, if she is actually really serious about it all. The time to really do something about the bullying epidemic is now!
New York, NY (PRWEB) September 22, 2017
With pop star JoAnna Michelle and the world listening intently, First Lady Melania Trump, took the stage at the United Nations yesterday (9/20) pleading for a kinder and softer cyber-world and a more compassionate social existence. Echoing the theme of JoAnna Michelle's Billboard Top-20 hit single "Too Sophisticated," Ms. Trump stood up with courage for all the global victims of cyberbullying. JoAnna, herself, has been the victim of relentless bullying and terrorizing cyber-attacks for many years. Taking aim at her predators, songstress JoAnna Michelle put all of her violators on warning with the jaunty lyrics of "Too Sophisticated"—a power-anthem for cyberbully victims everywhere. Check out "Too Sophisticated" on iTunes now.
"I want to help Melania! It is about time that someone in the White House actually undertook this heinous crime of bullying," states pop princess JoAnna Michelle. "It's a serious problem everywhere in the world and some teens even lose hope and commit suicide over the antagonism. It has all got to stop…and I suspect Melania knows her husband, our President, needs to change his ways too. Bullying of any kind is never acceptable!"
During the U.N. luncheon, Melania Trump was quoted as saying, "By our own example we must teach children to be good stewards of the world they will inherit." This statement raised some eyebrows and pointed fingers at her husband Donald Trump for the bullying ways he practices on social media and public platforms to attack his adversaries and critics.
Well, JoAnna Michelle, a very good steward of the world, believes that everyone deserves to live a happy life—a life free from bullying. She wrote and recorded her hit single with Marty Bowie because she was ready to take a stand and let the callous bullies know that their victims are "Too Sophisticated" to even allow the harassment to bother them. JoAnna Michelle wants to see an end to bullying now!
JoAnna Michelle states: "I have been performing "Too Sophisticated" at shows throughout the year and I am getting so much support on this topic because nobody is doing enough on cyberbullying. Kids are always coming up to me and telling me their stories of being tormented and I want to do more for them. If I could, I would be happy to help First Lady Melania Trump with her platform, if she is actually really serious about it all. The time to really do something about the bullying epidemic is now!"
The new pop-dance single, "Too Sophisticated" has been playing on radio and clubs internationally, paired with a heroic music video. Watch the official "Too Sophisticated" music video on YouTube now.
JoAnna's "Too Sophisticated" dance remix package, which was produced by Jimmy D Robinson, features slammin' dance remixes from Dave Audé, Dirty Werk, Moto Blanco, Dave Matthias, DJ Globvibes, Kyodee, Roger Grey, and Edson Pride. The single peaked at #22 on Billboard, #6 on Music Week, and topped the European DJ Buzz chart.
ABOUT JOANNA MICHELLE
JoAnna is a rare breath of musical and performance authenticity in today's over-produced, hyper-digitized music scene. A native of Wichita, Kansas, she spent the majority of her childhood studying and emulating hundreds of artists of both past and present generations, appreciating and "sponging" everything from southern rock to hip hop, country/western to pop, rock to rap, and everything in between. Having started ballet and tap lessons at the age of four, it soon became very clear that music, dance and performance are her passions. As early as first grade, JoAnna began piano lessons, and has since become a true multi-instrumentalist - proficient at drums, guitar, keyboards, and vocals. While developing her musical abilities, she has also continued to pursue dance studies, focusing on hip hop, ballet, modern, jazz, and tap. After years of studying and emulating others, JoAnna has found her own voice, and made her worldwide debut in 2016 with her break-through single, "My Snap Story." Her second single "Entourage (I Am My Own)" was released in October of 2016. The inspiration for "Entourage" was the recent experiences while breaking into the music industry. She plays the drums on the "Entourage" track as well as lead vocals. JoAnna loves to be on stage performing in front of people, connecting with her audience and fans. This up and coming young artist is excited to begin her musical journey, and take you along for the ride. Stay tuned.
For more information on JoAnna Michelle and her upcoming performances, please visit her website.