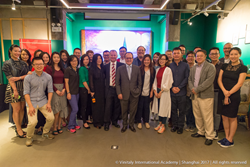 "Our objective is to foster candidates' curiosity about Italian wine, and furnish them with the right tools so that they can discover Italian wine by getting to know—and also travel to—the Italian territories which our wines so elegantly and distinctively speak of" Stevie Kim
(PRWEB) September 22, 2017
The Vinitaly International Academy (VIA) certification exam proves to be, once more, one of the toughest wine exams, due to its focus on the many Italian native grapes. At its first roll-out in China in Beijing and Shanghai, the VIA course only awarded its Italian Wine Ambassador (IWA) title to 15 candidates out of 73 who sat the exam in total.
In order to achieve the title of IWA, the candidates have to pass a complex exam at the end of each course. The passing rate is around 25 to 45 percent, which shows how challenging the exam is. The exam difficulty serves two main purposes: on the one hand, it maintains a competitive threshold, that will really enrich wine professionals' profile; on the other hand, it ensures knowledge of Italian wine be always in line with the most up to date and rigorous research. Stevie Kim, the Vinitaly International Academy Founder, comments, "It is true there were only six new ambassadors from the Shanghai Edition of which two were retakes. Despite the difficulty of the VIA exam and the low pass rate at times, we are absolutely not here to fail candidates, but we do want to encourage them to cultivate an interest in Italian wines with rigor and a keen focus on native grapes, following Ian D'Agata's scientific approach. We welcome Italian wine educators, trade professionals, and wine lovers from all walks of life; some are even doctors, lawyers and accountants. Regardless of the exam results, I'm certain that most had never tasted a Monica- or Frappato-based Italian wine. So what they were able to discover here with us these past two weeks gives me the greatest pleasure, since we are striving to widen the perspective on Italian wine for the Chinese wine market. Our objective, in the end, is to foster candidates' curiosity about Italian wine, and furnish them with the right tools so that they can discover Italian wine by getting to know—and also travel to—the Italian territories which our wines so elegantly and distinctively speak of."
Under the direction of internationally renowned wine critic Dr. Ian D'Agata, the VIA course has a well-tested and winning format: five days of intense classroom lectures exploring both scientific and cultural aspects of Italian wine and its native varieties, along with exceptional wine tastings with an average of twelve wines per day sampled by the students. The course finals include a multiple-choice test with 100 questions covering a range of Italian grapes as wide as 590. Candidates with a passing rate of 90% access the orals and tasting components of the exam that will award them the highest Italian Wine Expert (IWE) title. Students with a test passing rate between 75% and 89% receive the IWA title.
Ian D'Agata, who has been running the course since 2015, is the author of Native Wine Grapes of Italy (California Univ. Press, 2045), a seminal work which broke new ground for the breadth of research and scientific rigor showcased. His book won the 2015 Louis Roederer International Wine Book Awards as Book of the Year and has been the course book for the VIA certification course since the beginning. As of August, VIA included in its readings an additional study guide, Italian Wine Unplugged Grape by Grape (Positive Press, 2017). VIA's attention to solid reading materials and innovative pedagogy in constant revolution showcases its commitment to various learning styles around the world and to spreading the gospel of Italian wine.
The two Chinese editions welcomed wine educators, journalists, sommeliers and other wine professionals including importers and sales representatives with high credentials in the wine sector. Many of them already held WSET Diplomas and some were MW candidates. Candidates from all over China, Taiwan, Macau, Honk Kong, Singapore and Russia took advantage of this unique opportunity to increase their understanding of Italy's wines from the world's most important educational institution specializing in Italian wine.
The VIA Certification Course caters to all these professional categories, as it represents the one and only opportunity to gain extensive and in-depth knowledge on the vast subject of Italian grapes and wines. For instance, the three most acclaimed wine professionals in China—Lu Yang MS, Sarah Heller MW and Fongyee Walker MW—have successfully become Italian Wine Ambassadors during past VIA editions in Verona. Lu Yang, corporate wine director for Shangri-la Hotel group has just been awarded the Master of Sommelier qualification (MS) by the Court of Master of Sommeliers in August. Likewise, journalist and consultant Sarah Heller has just been awarded the Master of Wine qualification (MW) earlier this week by the Institute of Masters of Wine, so has been Fongyee Walker, the Dragon Phoenix Wine Consulting co-founder, last year.
At the end of the Chinese editions, VIA welcomed nine new IWAs from Beijing and six new IWAs from Shanghai (See full lists below). Currently, VIA is home to two IWEs and 32 IWAs from USA, and two IWEs and 31 IWAs from the Greater China area. In total VIA counts 114 IWAs, seven of which are Italian Wine Experts (IWEs), the highest certification.
Full list of the six newly certified Italian Wine Ambassador Shanghai Edition 2017
Shelly Lee, Wine Education Director at Shanghai Revive
Ifan Wang, Wine Sales at Sarment
Catherine Yen, Wine educator and MW candidate. Panel judge for Decanter Asia Wine Challenge.
Ping Yang, Wine Educator at Asia Wine Service & Education Centre, China Wine & Spirits Awards official judge for 2015
Mingxu Tu, Food & Wine Importer and Distributor at Quarto Products
Rinya Jiang, Wine Trainer at Summergate Fine Wines, CMS certified sommelier
Full list of the nine newly certified Italian Wine Ambassador Beijing Edition 2017
Heng Gui, Wine Educator at North China
Xiang Li, Wine Educator at East Meet West Fine Wine
Junjie Shi, Wine Educator at EWM Trading Company Limited Shenzhen
Daria Vereshchagina, Director of LLC Mistral restaurant and Head sommelier at DOM
Jun Wei, Wine Educator at Tasting Annex Wine & Spirit Consultants
Wei Xing, Wine Educator at Dragon Phoenix Wine Consulting
Ning Yi, Chief Educator at Tasting AnnexWine&Spirit Consultants
Mi Zhu, Wine buyer at Amazon China
Jia Liu, Wine Educator and Self-Media Italian Wine Tour Blog Writer
The next stop of the Vinitaly International Academy's worldwide tour will be in San Francisco, U.S., from the 16th to the 20th of October. For more details about the VIA Certification Course and all the Ambassadors' BIO see:
http://www.vinitalyinternational.com/vinitaly-international-academy/candidates
http://www.vinitalyinternational.com/images/via/next_course_2017.pdf
About:
Veronafiere is the leading organizer of trade shows in Italy including Vinitaly (http://www.vinitaly.com), the largest wine and spirits fair in the world. During its 51th edition Vinitaly counted more than 4,270 exhibitors on a 100,000+ square meter area and 128,000 visitors from 142 different countries with more than 30,000 top international buyers (up by 8%). The next edition of the fair will take place on 15 - 18 April 2018. The premier event to Vinitaly, OperaWine (http://www.operawine.it) "Finest Italian Wines: 100 Great Producers," will unite international wine professionals on April 14th in the heart of Verona, offering them the unique opportunity to discover and taste the wines of the 100 Best Italian Producers, as selected by Wine Spectator. Since 1998 Vinitaly International travels to several countries such as Russia, China, USA and Hong Kong thanks to its strategic arm abroad, Vinitaly International. In February 2014 Vinitaly International launched an educational project, the Vinitaly International Academy (VIA) with the aim of divulging and broadcasting the excellence and diversity of Italian wine around the globe. VIA this year launched the fourth edition of its Certification Course and today counts 114 Italian Wine Ambassadors, 7 of which are Italian Wine Experts.