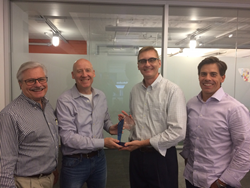 "We have been very impressed with everything that PhysIQ has accomplished over the past year. They have consistently demonstrated their commitment to maintaining an effective cybersecurity program. - Grant Elliott, CEO, Ostendio
Arlington, VA (PRWEB) September 26, 2017
Ostendio, a leading provider of cybersecurity and information management solutions, proudly announced today that PhysIQ has been selected as the winner of the 2017 MyVCM Trust Network Awards. PhysIQ, a pioneer in developing solutions that leverage artificial intelligence (AI) to empower digital health for ambulatory patient monitoring and clinical trial support, showed exemplary dedication to information security and risk management. Throughout the year, PhysIQ has demonstrated their dedication to maintaining high levels of security and has consistently ranked in the top five of the monthly MyVCM Awards.
"Protecting data is extremely important to us, and we take it seriously. The MyVCM platform allows the entire company to work together to ensure all around security. I am proud that our commitment to information security has been recognized with this award," said Matt Pipke, CTO, Director and Founder of PhysIQ.
PhysIQ is focused on transforming real-world physiology data into actionable insight using machine learning. Their portfolio of technologies and solutions provides everything required to capture, transport, store, and analyze continuous telemetry from wearable sensors and present personalized physiology analytics for their customers in health care, wellness and clinical trials markets.
"We have been very impressed with everything that PhysIQ has accomplished over the past year. They have consistently demonstrated their commitment to maintaining an effective cybersecurity program. We are proud to work with a company like PhysIQ, who develop ground-breaking solutions, while also building and maintaining their security and compliance programs," said Grant Elliott, CEO of Ostendio.
The MyVCM Trust Network Awards
The MyVCM Trust Network Awards recognize innovative companies that demonstrate excellence managing their information security, risk management, and compliance programs. Each month Ostendio reports the top three leading companies based on their overall Compliance Score, across the entire MyVCM Trust Network. In the month of August 2017, there were nearly 10,000 individual transactions on the MyVCM Trust Network. The dramatic growth in the program last year reflects the growing awareness around the need for healthcare cybersecurity. For more information visit http://ostendio.com/myvcm-trust-network/
About Ostendio
Ostendio's award-winning MyVCM Cybersecurity and Information Management platform provides organizations with an enterprise view of their cybersecurity program. MyVCM uses behavioral analytics to drive employee and vendor engagement. For more information, please visit http://www.ostendio.com
About PhysIQ
PhysIQ is a company dedicated to enabling proactive care delivery models through its Personalized Physiology Analytics (PPA) and highly scalable cloud-based platform. The FDA 510k-cleared data analytics platform is designed to process multiple vital signs from wearable sensors to create a personalized dynamic baseline for each individual. By mapping vital sign relationships this way, PhysIQ's analytics detect subtle deviations that may be a precursor to disease exacerbation or change in health and warrant clinical attention. With applications in both healthcare delivery and clinical trial support, PhysIQ is transforming continuous physiological data into insight for providers, health systems, payers, and pharmaceutical and medical device companies. For more information, please visit http://www.physiq.com.