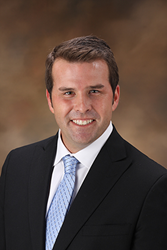 New Port Richey, FL (PRWEB) September 25, 2017
Physician Partners of America announces that Chad Gorman, M.D., has joined its new New Port Richey, Fla. location at 5304 Main Street as an interventional pain management specialist.
Dr. Gorman is a board-certified physician specializing in treating chronic pain of the spine and extremities. He joins PPOA from private practice In Brooksville, Fla. His orthopedic background puts him in a unique position to treat complex orthopedic pain non-operatively.
A Southwest Florida native, he received his undergraduate degree in Health Science Information from the University of Florida. While there, he spent many hours working at UF Health Shands Hospital in the Burn Unit, Emergency Room and pediatric inpatient floor.
Dr. Gorman earned his medical degree at American University of the Caribbean, Netherland Antilles, in 2009. His primary interest during medical school was outpatient care that involved orthopedics and pain medicine. His third and fourth year clinical rotations were spent in London and New York City.
After completing medical school, he traveled to the University of Oklahoma to complete his residency and fellowship. During this time, he focused his training on outpatient sports medicine/orthopedics and interventional pain management. His fellowship helped him learn complex orthopedic and lumbar procedures to treat pain.
His philosophy is that pain is needs to be treated with a multi-variable approach. He believes the goal of 100 percent pain relief can be reached most effectively with a combination of lifestyle modifications, medicine, procedures and a proactive and positive attitude.
Dr. Gorman will be the primary provider at PPOA's newest Florida pain management location, the site of a private practice owned by the late Hui Zhu, M.D. In August, PPOA assumed management of Dr. Zhu's practice to continue his legacy in Pasco County.
Dr. Gorman will also treat patients at the company's flagship location at 4730 N. Habana Ave., Tampa, on Tuesdays. Patients may call for an appointment at 727-597-8450.
Both clinics are open from 9 a.m. to 5 p.m. Monday through Friday. Same-day appointments are available.
About PPOA:
Started in 2013 and headquartered in Tampa, Fla., Physician Partners of America is a national healthcare organization focused on strengthening the doctor-patient relationship and improving patient outcomes. PPOA, and its affiliates share a common vision of ensuring the wellbeing of patients and providing their physician partners the opportunity to focus on the practice of medicine. This model allows physicians to be physicians, caring about patients and their needs in the face of ever more complex administrative requirements.
For more information about Physician Partners of America, visit http://www.physicianpartnersofamerica.com.