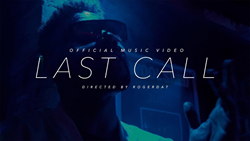 Sydney, AUS (PRWEB) September 22, 2017
Australian recording artist Bertie Anderson recently released his latest music video for the single "L A S T C A L L". The video is directed by Roger Dat and can currently be viewed in its entirety at Coast 2 Coast Mixtapes.
Bertie Anderson is an Australian singer/songwriter/producer specialising in the genres of R&B, Trap-Soul, Street Soul, Hip Hop, R&Bass, Rap etc. He was born in Cairns, Queensland, on October 10, 1988. Bertie began writing songs, singing and performing with dance crews as a young teenager. He gained attention as one of the pioneers of the premier hip hop dance crew "Three Six Five".
Bertie William Erra Anderson grew up in Cairns city. His father is from the Torres Strait Islands, as is his mother. Bertie's parents split when he was 3 years old, after which he and his brother lived primarily with their mother. Bertie listened to R&B, funk, hip-hop, and reggae as a child, mostly due to the musical tastes of his parents. By the age of 14, his sound was evolving independently, and he was writing his own songs, recording and making beats.
Bertie began his professional entertainment career upon graduating high school in 2005. He worked as a hip hop dancer and choreographer, for various shows and companies for several years. Most notably, his work with Three Six Five which platformed him to feature on "So You Think You Can Dance Australia 2008" and "Xtreme Illusions" with Magician Sam Powers. In this time, Bertie constantly worked at perfecting his craft. He took it upon himself to learn every aspect of the music industry. From the production process to image and marketing, Bertie planned out exactly what it takes to become a successful recording artist. In 2010, Bertie decided to relocate to Perth, Western Australia. He felt he needed to be isolated to do some soul searching to discover who he was as an artist. Doing so, made the stars align and in turn, took Bertie's music to the next level. It was then that he felt ready to launch an independent self-titled debut. The release of "Bertie Beetle" was an immense learning curve for Bertie in terms of promotion and engaging with fans- "There's much that I could've done better, but the whole journey was trial and error. Being an independent artist can be tough financially, all I need is a good team behind me for support".
Bertie is currently working independently on a double EP project accompanied by visuals. With an evolving style, he promises to bring the best to the table for his fans. "A true triple threat, acting, singing and dancing!"
For all the latest news and music from Bertie Anderson, fans can visit his official website.
About Coast 2 Coast Mixtapes:
Coast 2 Coast Mixtapes are the most widely distributed mixtapes in the world, with over 100 million downloads/plays generated by over 300 volumes officially hosted by major artists. Coast 2 Coast has a solid reach in the new music industry with a digital magazine, DJ coalition, industry tips blog, yearly convention, and more. Coast 2 Coast Mixtapes represents a unique opportunity for artists of all urban genres, from major to indie. For more information, visit http://www.coast2coastmixtapes.com