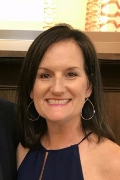 Elizabeth City, NC (PRWEB) October 10, 2017
Coldwell Banker Seaside Realty, a leading real estate firm in northeastern North Carolina, would like to welcome Pattie Sexton as a new broker sales associate with the firm. Sexton is enrolled in Launch, a Coldwell Banker University program designed exclusively for sales associates newly affiliated with the Coldwell Banker® brand. The live, instructor led online program will provide Sexton with best practices, tips, and insights on building (his/her) business plan, working effectively with clients and planning for contingencies and challenges in her business.
Pattie Sexton has recently relocated to Hertford from Mebane, NC. Her background in real estate administration and her love of home design and DIY projects give her a creative and savvy perspective to all the details of real estate transactions. Pattie will be based out of the Elizabeth City office and can be reached at 910-624-0384 or pattiesexton(at)cbseaside(dot)com.
"It's exciting to begin my new career with such a professional and welcoming firm!" says Pattie Sexton.
"It is critical for new sales associates to gain the necessary knowledge to successfully interact with clients and develop business. Our in-house training, along with the Launch course, will provide Pattie with the necessary skills for a successful career in real estate," says Pamela Smith, Vice President of Sales.
Coldwell Banker Seaside Realty is a consistent top producing firm with over 25 years of local knowledge and experience. Family owned and operated, the company offers real estate services across the entire Outer Banks as well as all of northeastern North Carolina. Combined with the Coldwell Banker brand, one of the largest and most influential residential real estate brokerage franchises in the world, Seaside Realty offers top-tier real estate services to buyers and sellers throughout the region.