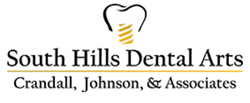 Upper St. Clair, PA (PRWEB) September 26, 2017
New patients, without a referral, who do not have sufficient bone density to support dental implants are now welcome to visit South Hills Dental Arts for a consultation with Drs. Steven Crandall, Karen Johnson or Kathy Lopez on Plasma Rich Fibrin (PRF) and bone grafting in Upper St. Clair, PA. PRF is recommended for those who require bone grafting procedures because it helps to accelerate the body's natural healing process and decrease healing time.
Patients with missing teeth have a variety of treatment options available to them. However, dental implants are preferred by patients and highly recommended by dental professionals qualified to place them. Implants are now the gold standard in tooth replacements. They are preferred in strength and durability when compared to most other tooth replacement options. The post of an implant is made of titanium, which has a high acceptance rate and is very strong on its own. When the post is surgically placed in the jaw and the site is given time to heal, the bone grows tightly around the post during a process referred to as osseointegration. It is this bond that gives the implant its durability and strength.
Not all patients with missing teeth are good candidates for implants. In some cases, bone grafting in Upper St. Clair, PA, may be required in order to strengthen the patient's bone structure before receiving implants. In order to minimize recovery time, Drs. Crandall, Johnson and Lopez recommend PRF treatments to reduce healing time by supporting the body's ability to heal itself. PRF is a by-product of blood rich in platelets. While it has been used in hospital settings for many years, the benefits of PRF have only recently been utilized in dentistry.
The team at South Hills Dental Arts encourages patients with missing teeth and minimal bone mass to receive a consultation to find out if they will be good candidates for dental implants after undergoing bone grafting in Upper St. Clair, PA with PRF. Appointments can be reserved by calling the practice at 412-833-6166 for the Upper St. Clair location or by visiting http://www.southhillsdentalarts.com.
About the Practice
South Hills Dental Arts offers individualized dental care to patients in the Upper St. Clair, PA and Pittsburgh, PA areas.  Dr. Steven Crandall, Dr. Karen Johnson and Dr. Kathy Lopez offer experienced dental implant, TMJ, and Invisalign® treatments along with a wide variety of other services at their two office locations. The entire team at South Hills Dental Arts, understand the importance of learning the most cutting-edge treatment techniques to ensure each patient receives effective and comfortable treatment. To learn more about Dr. Crandall, Dr. Johnson and Dr. Lopez or the services they offer, please visit their website at http://www.southhillsdentalarts.com. To schedule an appointment at his Upper St. Clair office call 412-833-6166 or 412-922-9292 for the Ingram Crafton office location in Pittsburgh, PA.