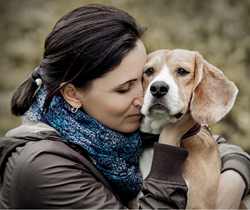 Westlake Village, CA (PRWEB) September 25, 2017
NuVet Labs, one of the leaders in pet nutritional supplements, wants pet owners to be fully prepared in the event of another major storm. Six hurricanes have wreaked havoc in 2017 so far and more may be on the way before the end of hurricane season on November 30th.
With this year's active hurricane season producing monster storms such as Harvey, Irma, and Jose, it's critical that people know how to secure their pets. The key is pet disaster preparedness, and trying to keep your pets with you whether you ride out the storm at home or evacuate.
The first step is being aware of upcoming storms. The National Hurricane Center provides a tropical weather forecast and other data relevant to hurricane preparedness. If a storm is coming your way, stay updated on the predicted landfall so you can prepare ahead of time and bring your pets inside before the weather conditions escalate. If your pet is not microchipped, ensure their tag information is up to date.
Next, plan ways to keep your pet with you at all times in case of an evacuation. Place your pet in a carrier with their favorite toy or blanket so they are easy to locate and move if necessary. Remember, your pets will be anxious, so keep them close during the event to comfort them. If you are evacuating, look specifically for pet-friendly shelters. The Humane Society is a good resource to locate them fast, however not all public shelters will accept pets, so create a Plan B.
In case you and your pet are unable to stay together during an evacuation, look for pet-friendly hotels or boarding facilities that you can get to if necessary. Be prepared to call more than one because they will fill up fast, and if you cannot find a hotel or shelter, check with your vet to see if they will board your pet.
Finally, ready an emergency kit for each pet that contains the essentials:

Collar/contact information
First aid kit
Medications/medical records
Water – 3 day supply minimum
Food in a waterproof container – 3 day supply minimum
Crate – large enough for your pet to move around
Potty supplies – litter, paper towels, plastic bag, etc.
Picture of you with your pet to prove ownership.
Household items – familiar items can help keep your pet calm
Agencies like the ASPCA send field teams out to disaster areas to rescue animals in case you are separated from your pet during the chaos. A microchip or collar with contact information provides them and first responders with a way of connecting you to your animal. The ASPCA also provides Rescue Alert Stickers that tell first responders there are pets inside the home if you are forced to leave them behind. If you don't have one, put a note up in a window with the species and names, so they know what to look for. You can also contact the American Red Cross at 1-800-RED-CROSS for emergency assistance.
Being prepared and having a plan is key to weathering any disaster scenario that you and your pets are faced with. Human or animal, emergencies are scary for everyone, and our pets depend on us to keep them safe in times of crisis. Following these steps will help keep your furry friends out of harm's way, and knowing your best friend is safe and sound will help make the storm a lot less frightening.
Learn more about NuVet Labs and their mission to help keep pets healthy through superior nutrition at http://www.nuvetonline.com.
For more pet topics, follow NuVet on Facebook: Facebook.com/NuvetLabsOfficial