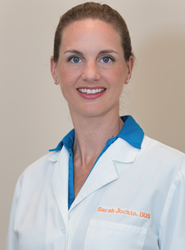 Lutz, FL (PRWEB) September 26, 2017
At Lake Park Dental, Drs. Sarah Jockin, Sara Spear and Elizabeth Dy invite new patients with missing teeth to enjoy the benefits of attractive, high-impact resin dentures in Lutz, FL. There is currently no referral needed for this respected team to begin the process of designing a set of durable tooth replacements. The practice includes an in-house laboratory, which allows patients to have all their needs met at a single location and in a shorter time.
Modern advancements in dentistry have made finding the right tooth replacement option easier and more reliable. However, not all dentures in Lutz, FL, are the same. Not only must the denture rest comfortably against the gums, the upper and lower teeth should meet in the correct position at rest and during chewing. A poor fit may turn eating, speaking and smiling into difficult or embarrassing activities. To ensure that the design meets all an individual's needs, the dentists and lab technician at Lake Park Dental work together with each patient to perfect the look, feel and function of the prosthetic.
When creating a custom denture, Dr. Jockin and her team focus on understanding the patient's goals for their unique smile. The in-house lab technician has extensive training, which provides the team a detailed understanding of how the bone, teeth and facial structure fit the customized denture. Made from durable, high-impact resin, these dentures are crafted to match the patient's tooth shape and color, as well as fit within the jaw occlusion. Dr. Jockin's commitment to excellence through custom dentures in Lutz, FL, means that that are minimal adjustments needed when fitting in the patient's mouth.
Those who are missing teeth or would like to replace their ill-fitting dentures can now call 813-527-9890, with or without a referral, to learn how custom dentures can improve their daily lives. More information is available at the Lake Park Dental website, http://www.implantdentisttampa.com.
About the Practice
Lake Park Dental is a general dental practice offering personalized and experienced dental care to patients in Lutz, Florida. Drs. Sarah Jockin, Sara Spear and Elizabeth Dy understand how important receiving comfortable and reliable dental care is, which is why they strive to create a welcoming and enjoyable environment at their state-of-the-art practice. Lake Park Dental offers skilled and comprehensive care utilizing the latest advancements in dental technology all at one office to provide convenient treatment patients can depend on. Dental implants, cosmetic dentistry, Invisalign® and laser dentistry, among other services, are all offered at Lake Park Dental. More information about Drs. Jockin, Morganti, Spear and Dy or the services they offer can be found on their website at http://www.implantdentisttampa.com. Those interested in scheduling a consultation can call 813-527-9890.