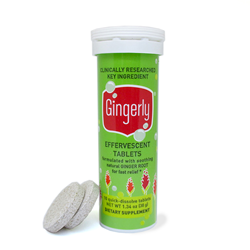 Delivering fast relief from stomach upset, acid indigestion, and muscle fatigue thanks to the power of natural ginger.
CHICAGO, IL (PRWEB) October 02, 2017
With fall around the corner, everyone's mind is on tailgate parties, state fairs, Oktoberfest and chili festivals, where there are plenty of opportunities to overindulge in food and drink that can cause stomach upset or indigestion. To make sure that people can fully enjoy the pleasures of the season, Janzee Inc., the maker of the original hibiscus supplement Rosellica®, has just launched a new product to address this everyday problem.
Gingerly® is a new and innovative proprietary effervescent supplement that uses the power of natural ginger to provide great-tasting, fast relief from stomach upset, acid indigestion, and muscle fatigue. While ginger is a kitchen staple, giving flavor to a host of dishes, it is also prized for its healing properties, with a 2500-year-old reputation as an effective herbal remedy. Emerging research also shows that the gingerols in this healing root can help those experiencing nausea, stomach muscle inflammation, bloating, and cold symptoms.
"We want people to enjoy their time with family and friends, and we don't want stomach discomfort to interfere with that. Gingerly® combines the great health benefits of natural ginger, in a convenient aspirin-free effervescent tablet for any situation," says Michael Ruehle of Janzee Inc. "We want people to feel free to try new foods and be adventurous, knowing that they can always recover Gingerly® whether at home, on-the-go, or traveling."
Suggested Retail Price: $ 6.95
Launch Date: August 2017
Retailers: Amazon, Independent Health Food Stores.
About Gingerly
Gingerly® is on a mission to be one small part of helping people recover from exercise and stomach upset, so they can get back to doing what they love. Gingerly®, which builds on the published research benefits of natural ginger, is the second product line developed and released by Janzee Inc. For more information on Gingerly®, please visit http://www.recovergingerly.com.
About Janzee Inc.
Janzee Inc., established in 2009, develops health & wellness products that are enjoyed by consumers across the United States. At the heart of Janzee is a team dedicated to creating specially formulated products to help people get back on track with their daily lives. Their journey started with Rosellica®, the original hibiscus supplement specially formulated to help manage blood pressure, which continues to rapidly grow. With a loyal and highly satisfied customer base across the country, Janzee Inc. continues to evaluate new opportunities to expand distribution with key retail partners committed to everyday health. For more information, visit http://www.Janzeeinc.com.