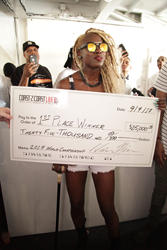 Miami Beach, FL (PRWEB) September 22, 2017
Coast 2 Coast LIVE Ups The Stakes, Will Award $50,000 Cash Prize to Winner of 2018 Music Conference World Championship
At this year's Coast 2 Coast Music Conference, the company awarded their championship winner $25,000. Next year, Coast 2 Coast LIVE plans to double that
At this year's Coast 2 Coast Music Conference a group of talented, up-and-coming independent recording artists from all over the U.S. and a number of foreign nations competed for major prizes and found themselves one step closer to making their dreams into a reality. This year's World Championship first place prize of $25,000 was awarded to Washington D.C.-based R&B/Soul artist Becky Cane. Along with the cash prize, Becky will also be recording her next project with Coast 2 Coast and a collective of Grammy-nominated producers and promoting her project on a 10 city tour facilitated by Coast 2 Coast LIVE. With the success of this year's convention, Coast 2 Coast LIVE looks to up the stakes next year by increasing the cash prize to $50,000. Along with the cash prize, the winner will also receive the album deal with Coast 2 Coast LIVE and the tour city 10 along with a number of other promotional prizes.
Artists who would like a chance to compete in the 2018 Coast 2 Coast LIVE World Championship must take first place in a Coast 2 Coast LIVE showcase. Artists can sign up to compete in a Coast 2 Coast LIVE showcase in a city near them on the events page of their official website.
For those who have not won a Coast 2 Coast LIVE, passes to attend next year's Music Conference in Miami Beach can be purchased through the official Music Conference website.
About Coast 2 Coast LIVE: Coast 2 Coast LIVE is the largest artist showcase in the world and tours the country looking for the next stars in all musical genres using our patented interactive platform. Coast 2 Coast LIVE puts the artist in front of celebrity judges to showcase their talents, while the judges give scores and feedback live via our interactive judging system on iPads, allowing artists to instantly get feedback on their performance and music from experts in their craft. Our events are open to all artists, just submit your music at coast2coastlive.com for the next event in your area, get votes from your fans, and if selected you can perform at our event, sell tickets, and win the grand prize package!
About Coast 2 Coast Music Conference: The Coast 2 Coast Music Conference is an annual networking event bringing together top industry DJs, producers, A&Rs, program directors and more to speak on formal panels and give practical advice to developing independent artists. The conference also features workshops, showcase events, DJ Battles, Model Contest, Afterparties and the grand finale VIP Yacht Cruise through beautiful Miami and the Biscayne Bay! All of this leads up to our World Championships showcase, where the top performer of the year will be crowned and awarded a cash prize of $25,000 as well as an exclusive record deal with Coast 2 Coast. This is one event you don't want to miss so be sure to sign up for the next Coast 2 Coast LIVE event in your nearest city!
Coast 2 Coast LIVE - Interactive Showcase Events Finding the STARS of Tomorrow!