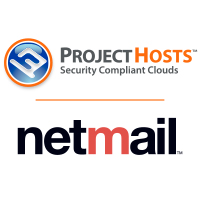 "This is about speed-to-value, accelerating innovation, and lowering costs. By deploying Hadron in Project Hosts' Azure Security Container, Netmail's auditing and eDiscovery solution became HIPAA attested and HITRUST-common security framework compliant in an immediate, turnkey manner," said Hector R
Orlando, FL (PRWEB) September 25, 2017
Microsoft Ignite Conference – Project Hosts, Inc. and Netmail, Inc. announced today that they have teamed up to deliver Netmail's Hadron Data Auditing and eDiscovery services to healthcare organizations as an on-demand service from a HIPAA/HITRUST compliant Azure Cloud. Netmail will be demoing their Hadron solution in a HIPAA/HITRUST Azure Cloud at the Microsoft Ignite #MSIgnite conference in Orlando, FL, September 25-29, in booth #1244.
"Running Netmail Hadron in Project Hosts' HIPAA/HITRUST compliant Azure Cloud allows healthcare organizations to audit data for HIPAA compliance in both on-premises and cloud locations," said Frederic Bourget, CTO at Netmail. "This ensures that sensitive data stays compliant while performing audits and retraction from an on-demand public cloud."
"This is about speed-to-value, accelerating innovation, and lowering costs. By deploying Hadron in Project Hosts' Azure Security Container, Netmail's auditing and eDiscovery solution became HIPAA attested and HITRUST-common security framework compliant in an immediate, turnkey manner," said Hector Rodriguez, director, Microsoft Worldwide Healthcare at Microsoft Corp. "With Microsoft Azure and Project Hosts' security container, ISVs can secure ePHI and implement cloud solutions without the need to incur the effort and expense required to design, implement, document and audit the application-level security controls required for full regulatory compliance."
As american healthcare organizations are required to meet HIPAA regulations, they may be required to perform regular audits to find confidential information such as PHI, PCI, and PII. When these organizations start moving to the cloud, having broad visibility into that data on the cloud and on-premises becomes increasingly difficult. Netmail Hadron provides a secure data auditing solution that will enable healthcare organizations to easily identify and view all of their sensitive data no matter where it is located before and after migrating this data to the cloud.
Now, organizations with sensitive information that need to comply with Federal, State and other international privacy regulations such as European Community GDPR and Canada'S PIPEDA, can perform searches for audits from a compliant cloud. Netmail Hadron allows investigations and eDiscovery on file systems, email archives, SharePoint, SharePoint O365, and file sharing solutions such as Box, Egnyte and Citrix ShareFile.
"Project Hosts provides Azure security containers that, together with supporting policies and procedures, implement controls related to access, authentication, encryption, auditing, business continuity, change management, incident response, privacy, annual assessment and other areas required for compliance with leading standards, including HIPAA, HITRUST, IS0 27001, and FedRAMP," said Scott Chapman, CEO and Co-founder of Project Hosts, Inc. "When ISVs or healthcare entities choose to deploy their applications in these containers, they inherit compliance with those standards, allowing them to deliver compliant cloud solutions to their customers."
By leveraging Project Hosts' HIPAA/HITRUST Azure Security Container, ISVs can allocate more resources to develop innovative software applications that improve the customer experience and maximize operational efficiencies. ISVs can rely on Project Hosts to gain HIPAA/HITRUST compliance for their application, while also gaining access to Azure experts who can architect, build, scale and provide advanced DRaaS, backup and archiving for their SaaS solutions. For more information visit: https://www.projecthosts.com/csp-hipaa-hitrust-azure-clouds.aspx
About Netmail
Discover your data wherever it resides through smart search and eDiscovery tools that connect to multiple platforms including Microsoft Exchange/O365, Box, Citrix ShareFile, file systems, Google, Amazon, and GroupWise. Sanitize any sensitive data to ensure compliance with HIPAA/HITECH, PCI, and any state PII regulations. Reduce costs by consolidating legacy archive systems, PST backups, and old mail systems into low cost archive storage in the cloud or on premise. Netmail also provides Migration Services and tools to help companies move quickly to the Netmail Cloud or between any public cloud collaboration services. http://www.netmail.com
About Project Hosts
Project Hosts is a cloud solutions provider (CSP) that specializes in securing, managing, and meeting regulatory security compliance standards for Windows and Linux applications in Azure for customers and ISVs. Our comprehensive set of Azure managed services extend Microsoft's security beyond the infrastructure (IaaS) and platform (PaaS) level to protect entire applications at the Software (SaaS) level. We implement the most rigorous cloud security standards including FedRAMP DoD SRG IL 4/5, FedRAMP Moderate and High, HIPAA / HITRUST, and ISO 27001. Healthcare organizations, federal, state, and local government agencies, and enterprises rely on us to ensure they have a cloud solution that meets their business needs, their budget, and most importantly, protects their business, employees, and patient's data from unauthorized access or theft. http://www.projecthosts.com