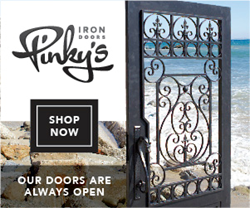 Los Angeles, CA (PRWEB) September 22, 2017
This year, Pinky's will be donating a wrought iron door to the SoCal Burn Ride in order to benefit burn survivors.
Fire is a major disaster that can turn anyone's life upside down. Pinky's Iron Doors is partnering with the SoCal Burn Ride to benefit and raise money for burn survivors. This is a motorcycle charity event that is being held on October 28th, 2017.
The event was founded by Trevor Holtan and Captain David Kuntz and is dedicated to providing burn prevention education and support for those that have suffered as burn survivors. This year, Pinky's Iron Doors will contribute by donating a wrought iron entry door, which will be raffled off at the event. Any proceeds gathered from this raffle will go to Direct Patient Services, Survivor Support Groups, and Family Camp. For more info or to register to ride go to: https://www.socalburnride.com/register-1
About Pinky's
Pinky's Iron Doors is a metal doors and windows company that's been in business for 40 years. We have a very talented team of iron door and windows specialists that can work to create custom-made iron doors, steel doors, metal windows, and wrought iron doors. Pinky's has provided iron doors and windows solutions for individuals and businesses around the country. Come visit the largest iron door showroom in the Country, located in the Greater Los Angeles area.
CONTACT INFORMATION
Pinky's Iron Doors
6007 S. St. Andrews Pl, Unit #5
Los Angeles, CA 90047
Phone: (844) 843-6677
Email: info(at)pinkysirondoors.com